Discover more from Crushing The Myth
We're passionate about bringing you the most headlines around Asian American news and newsmakers.
CTM AAPI Highlights 📰  Asian Actors Calling out Republicans. Census Push. HBO Short Film Festival.
Forwarded this newsletter? Sign up here.
Want more AAPI news & analysis? Sign up here.
Like this newsletter? Forward this to a friend!
This week's AAPI highlights.
Listen. Learn. Inspire.

AAPI News of the Week
1. Asian Americans call out Republicans who opposed anti-racism measure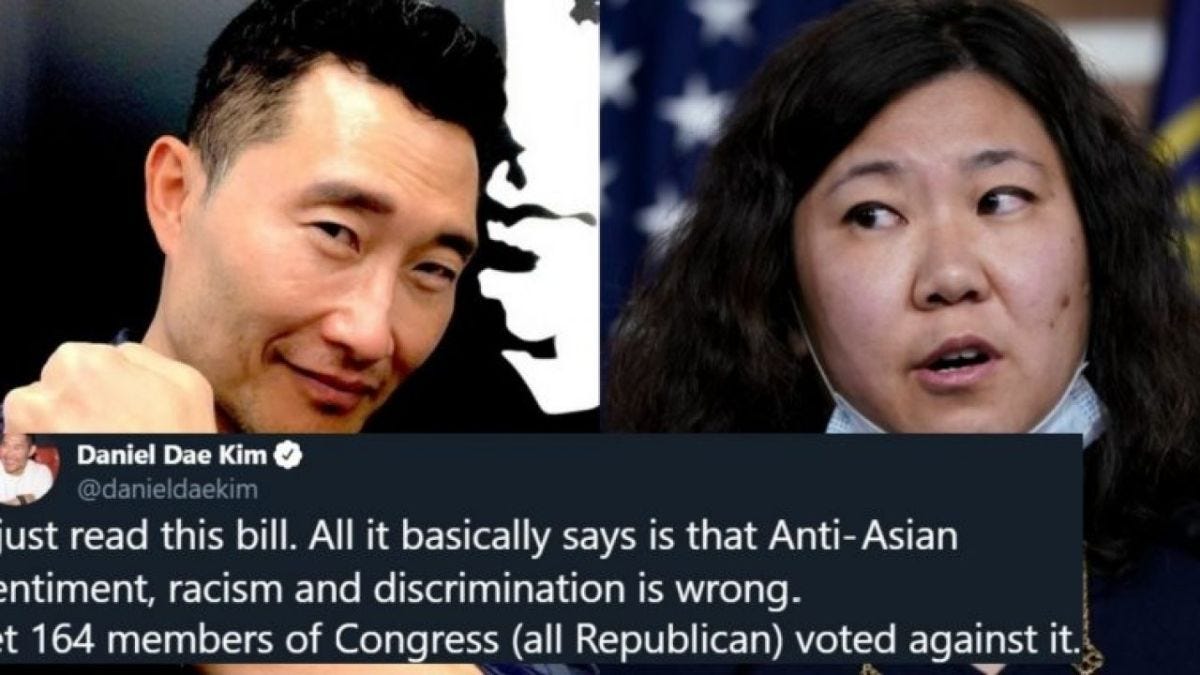 A 14-year-old student in Dallas was followed home by a group of high school boys who pretended to cough on him and shouted, "Ching chong! You have Chinese virus!" A 17-year-old was told over social media that their "insides are full of 'f---ing bats" and that they should kill themselves because they are a "dirty f---ing dog eater." An 18-year-old who was grocery shopping was called
Asian American personalities are calling out 164 Republican members of Congress who voted against a resolution denouncing hate incidents toward Asian Americans during the pandemic.
The House passed the legislation, introduced by Rep Grace Meng, D-N.Y., on Sept. 17 in a 243-164 vote, with all 164 nays coming from Republicans. Only 14 GOP members of the House voted for the resolution.

Celebrities like the actor Daniel Dae Kim and the author Celeste Ng were among those who tweeted their concerns about the Republicans who voted against it.
2. From caravans to influencers, Asian American groups get creative on census push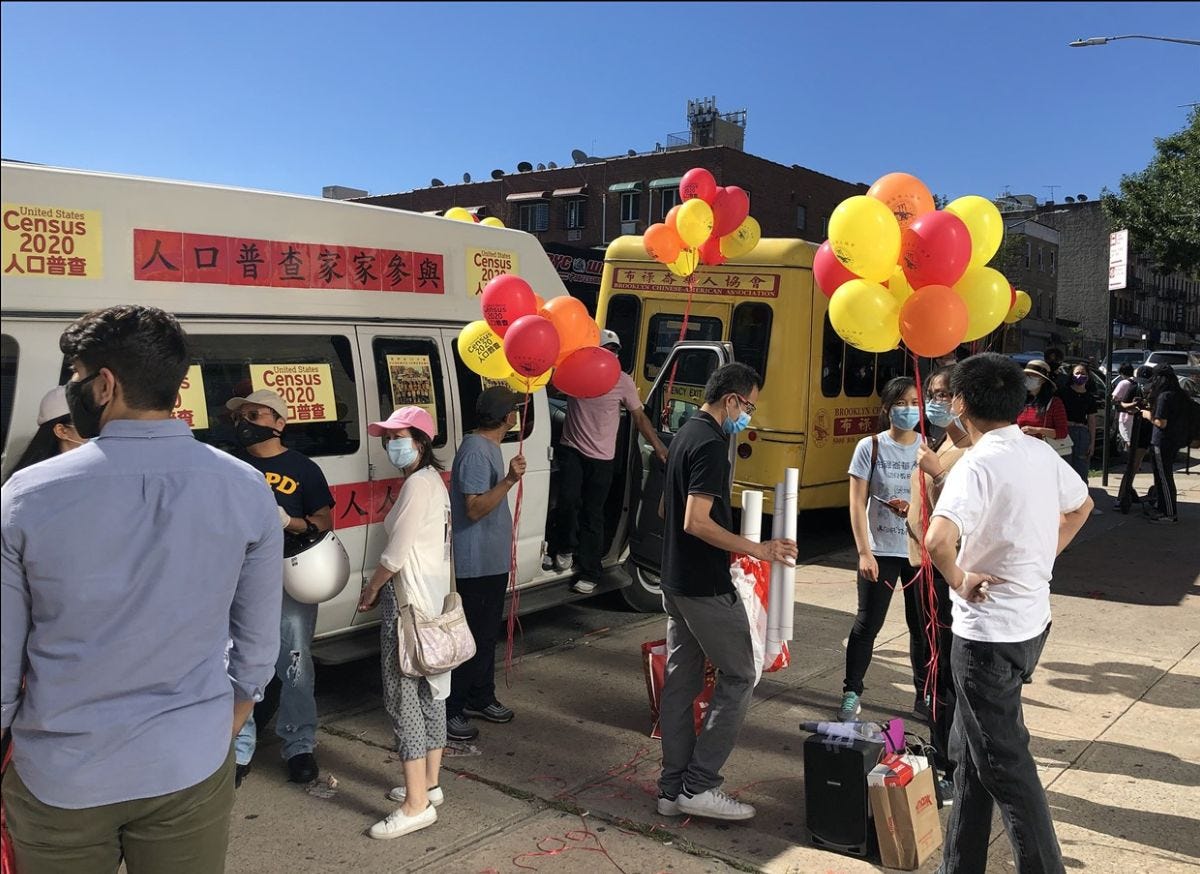 "I think that if everybody knows how important it is and how it can affect everyone's lives, they will definitely participate," Miao, who was enlisted to make the video by TDW+Co, the official Asian American outreach and communications partner of the 2020 census, told NBC Asian America.
Leaning on social media influencers like Miao is just one of the creative ways Asian American groups across the country are working to ensure everyone in their hard-to-count communities completes the 2020 census as the deadline to do so fast approaches.

It's a task made more urgent after traditional outreach efforts early on, like door knocking and face-to-face contact, were hobbled by the Covid-19 crisis — and after the Census Bureau announced that counting efforts would be completed by Sept. 30, an entire month earlier than planned. (A federal judge on Thursday reversed that decision, ordering that the count continue through the end of October, saying a shortened schedule most likely would produce inaccurate results.)
3. HBO Asian Pacific American Visionaries to Honor Short Films for Breaking Barriers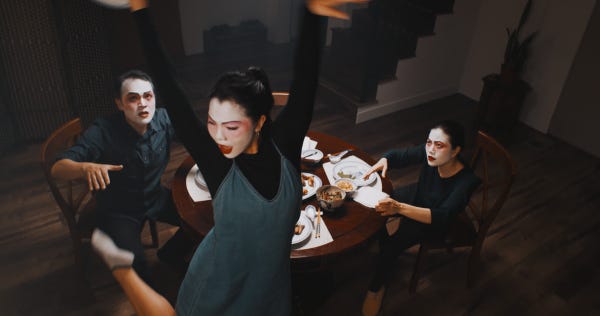 HBO's Asian Pacific American Visionaries winners will premiere their work on Sept. 25 at 5 p.m. PT/8 p.m. ET as part of the virtual Los Angeles Asian Pacific Film Festival. The three short films will be available to stream on HBO's website.
The winning pictures from APA creators — "Si" by Thomas Percy Kim, Tiffany So's "Fine China" and "Lonely Blue Night" from Johnson Cheng — exemplify this year's competition theme of breaking barriers and focusing on the challenges and victories specific to their communities.

Established in 2016, HBO APA Visionaries is a short film competition sponsored by HBO to provide emerging filmmakers of Asian and/or Pacific Islander descent the opportunity to showcase their work. The honorees are selected among hundreds of submissions, judged by a panel of APA filmmakers, industry leaders and HBO executives.

AAPI Minds of the Week
4. How to run a social media campaign with integrity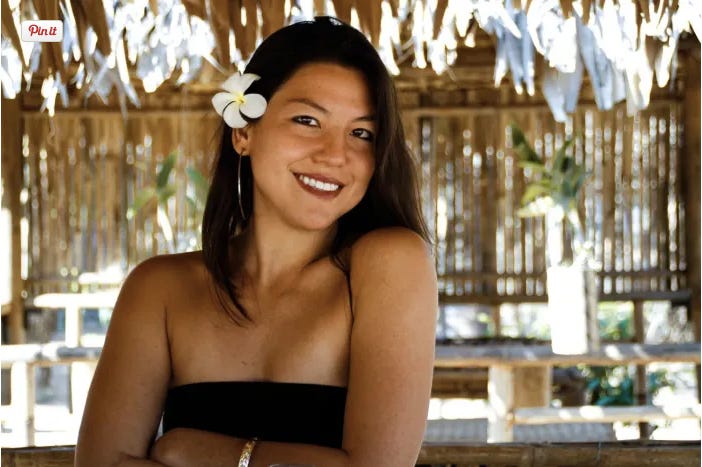 The outdoor content creator known as Dr. Kiona (she prefers not to use her last name publicly) is not your typical influencer. Founder of the blog How Not To Travel Like A Basic Bitch, the Texas-based entrepreneur with a PhD in nutritional science uses her brand to help people travel in a less ignorant, exploitative, and obtuse way—in other words, less like a "basic bitch."
Unapologetic and occasionally controversial, Kiona has attracted a massive audience—her Instagram account alone has more than 100,000 followers—by using her social channels as a platform to educate people about everything from racial injustice to cultural traditions. Though she doesn't often do giveaways or partner with brands, relying instead on community support to fund her platform, she has made exceptions for value-driven companies like REI, LifeStraw, and Granite Gear.
"When brands partner with me, people pay attention because I don't do it often," Kiona told SNEWS. "People know that if I choose to do a giveaway or brand promo, there has to be some sort of moral, ethical conversation happening. I wouldn't just do it frivolously."
Read more about Dr. Kiona.
5. Lana Condor brings Asian representation to mainstream beauty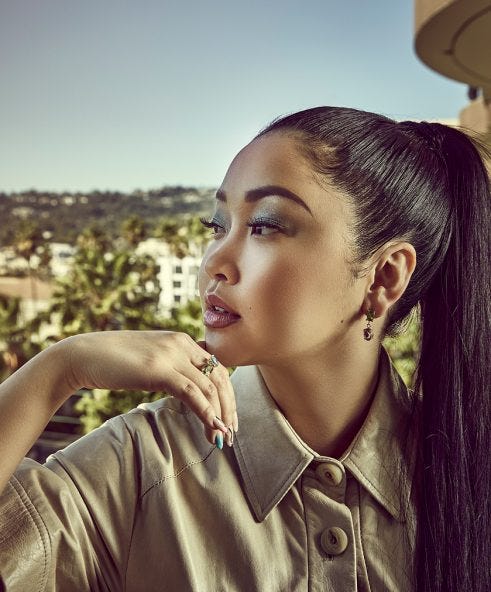 I'll admit, when the opportunity to interview Lana Condor came up, I had to step away from my desk to hyperventilate for a solid five minutes before frantically typing my response of "Absolutely I'm available, can't wait!" Condor's role as Lara Jean Covey in Netflix's To All the Boys series had a major impact on me personally as an Asian woman desperately wanting to see myself reflected in the pop culture (more on that here), making me feel seen in a way I'd never experienced before. It also set the stage for Netflix to make more diverse and inclusive casting choices across the board (think of Maitreyi Ramakrishnan in Never Have I Ever, Momona Tamada and Malia Baker in The Baby-Sitter's Club, Leah Lewis in The Half of It—the list goes on!).
Beyond her leading role in To All the Boys, Condor was recently announced as a new face of Neutrogena, another massive milestone for Asian representation. As a teen, I remember watching intently as my favourite stars like Mischa Barton, Hayden Panettiere and Emma Roberts scrubbed and splashed their way through Neutrogena commercials with the same products that sat on my own shelf. At the time, I was so used to seeing exclusively white faces on TV that it didn't even occur to me that I'd never seen one that resembled my own. While something as brief as a 30-second commercial might seem insignificant, the symbolism behind an entire new generation of Asian girls getting to see someone who looks like them in a mainstream beauty campaign is anything but.
Read more about Lana Condor.
6. InspirAsian of the Week (Instagram Feature)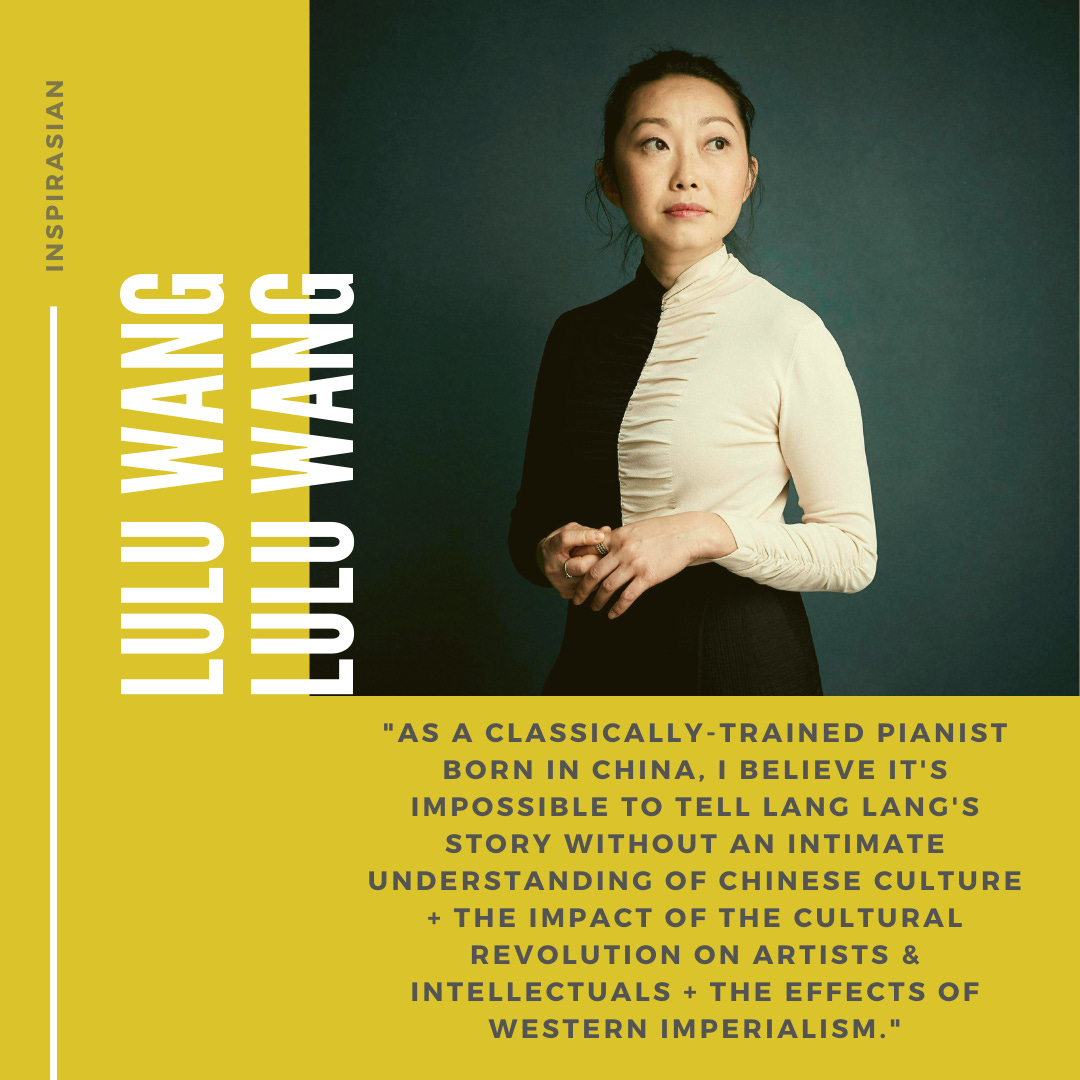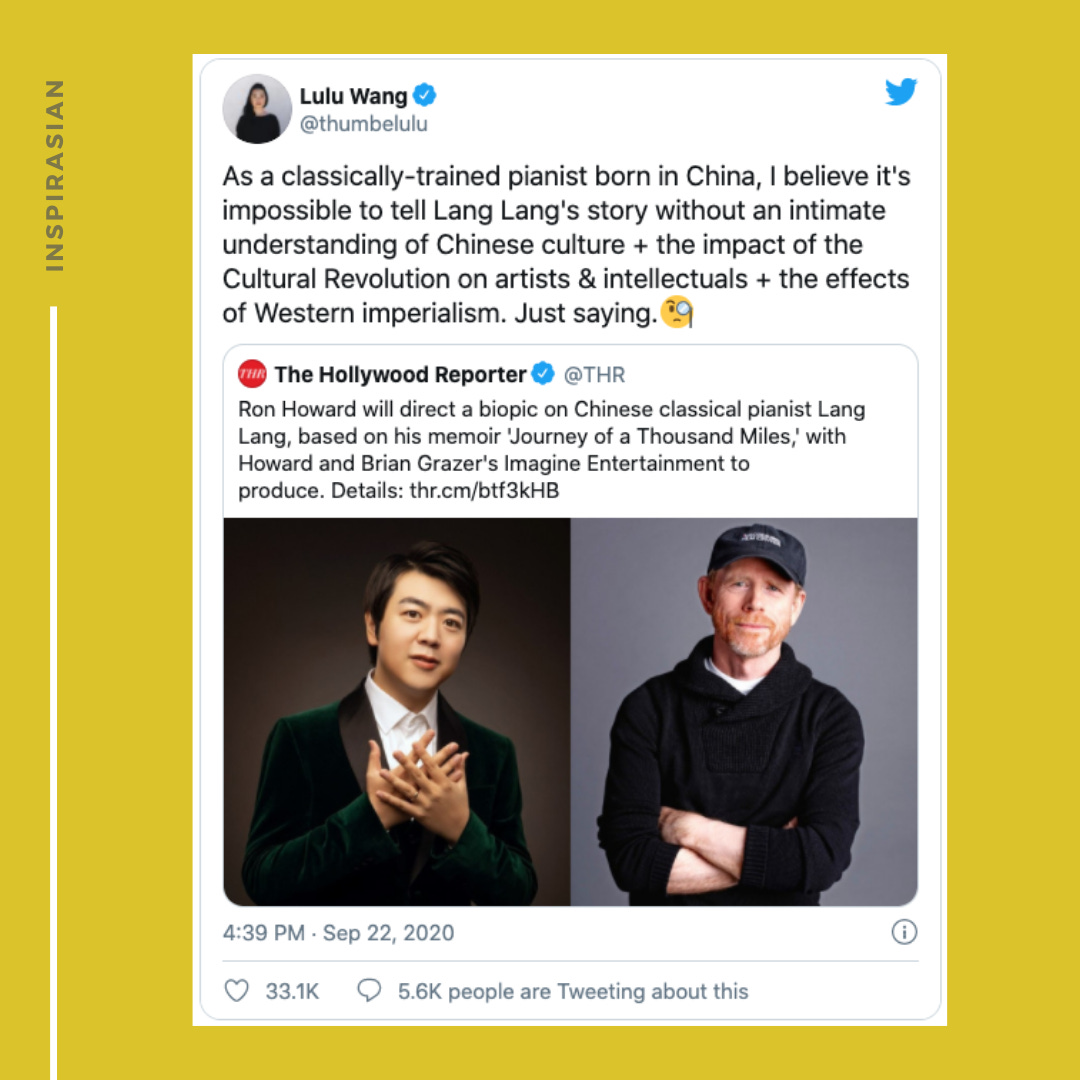 "Have we learned NOTHING from Mulan?" she added, referencing criticism that Disney's new film whitewashed the classic Chinese story. "I haven't said anything because yes representation and many people I love are involved, but I just have to. Just HAVE to. Because 2020 man... and I'm f—ing exhausted." ⁠⠀
⁠⠀
🎥 Lulu Wang is an American film director, writer, and producer. She is best known for writing and directing Posthumous and The Farewell. ⁠⠀
⁠⠀
🎥 Lulu responded to the recent news that Ron Howard will direct a biopic on Chinese classical pianist Lang Lang. Swipe to see her original tweet. ⁠⠀

AAPI Story of the Week
7. How Weed was a Gateway to Loving Myself as an Asian American Man | Victor Ung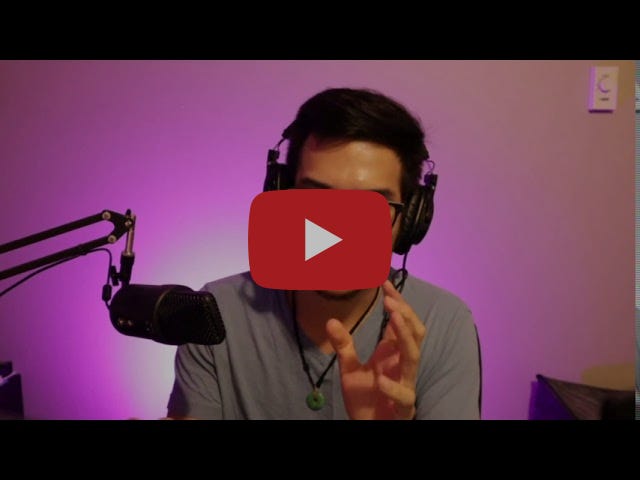 "And I was using cannabis on and off at this point but not to much benefit. I was getting more paranoid, more anxious, more stressed. And this is why it's important to be conscious and intentional with our use."

Victor Ung is an ICF-accredited Life Coach and certified Cannabis Wellness Coach, who specializes in supporting Asian men to improve communication, make better leadership decisions, and get past fear and shame with emotional intelligence and cannabis education.
Part of Crushing The Myth's Speaker Stories.