Discover more from Crushing The Myth
We're passionate about bringing you the most headlines around Asian American news and newsmakers.
AAPI News: Kelly, Naomi, Kristen, Jed
Someone sent you this newsletter? Sign up here.
Looking for our weekly digest? Sign up here.
Like this newsletter? Forward this to a friend!


Weekend highlights


Your weekly source of AAPI news.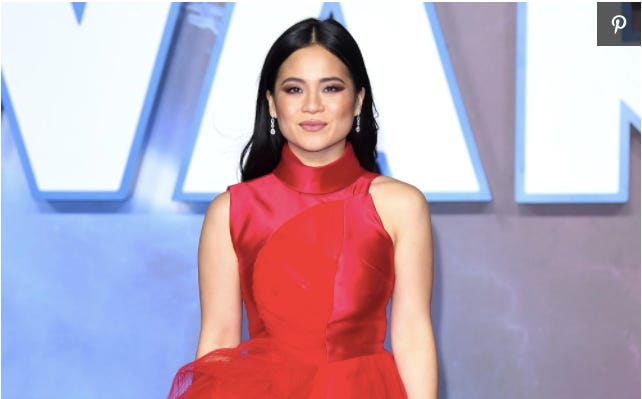 // entertainment

1. Kelly Marie Tran to star in Disney's 'Raya and the Last Dragon'
Kelly Marie Tran has made (cinematic) history by being the first actress of Southeast Asian background to lead a Disney animated movie. Here's a quick description of the plot:

"In the movie, Raya (voiced by Tran) is the daughter of the Chief of the Heart Lands, one of the five lands in the fictional kingdom of Kumandra. Years ago, dragons and humans lived in harmony, until monsters known as Druun invaded, forcing the dragons to sacrifice themselves and save humanity. Raya's father was also killed, and the film follows her journey as a warrior to find the last dragon, who she believes can save Kumandra."

Tran is no stranger to Disney having starred in the fantastic role of Rose Tico in the recent Star Wars reboot. But, it was Tran's powerful op-ed in the New York Times about online harassment and abuse that made the biggest headlines:

"It wasn't their words, it's that I started to believe them.
Their words seemed to confirm what growing up as a woman and a person of color already taught me: that I belonged in margins and spaces, valid only as a minor character in their lives and stories.
And those words awakened something deep inside me — a feeling I thought I had grown out of. The same feeling I had when at 9, I stopped speaking Vietnamese altogether because I was tired of hearing other kids mock me. Or at 17, when at dinner with my white boyfriend and his family, I ordered a meal in perfect English, to the surprise of the waitress, who exclaimed, "Wow, it's so cute that you have an exchange student!"

...

These are the thoughts that run through my head every time I pick up a script or a screenplay or a book. I know the opportunity given to me is rare. I know that I now belong to a small group of privileged people who get to tell stories for a living, stories that are heard and seen and digested by a world that for so long has tasted only one thing. I know how important that is. And I am not giving up.
You might know me as Kelly.
I am the first woman of color to have a leading role in a "Star Wars" movie.
I am the first Asian woman to appear on the cover of Vanity Fair.
My real name is Loan. And I am just getting started."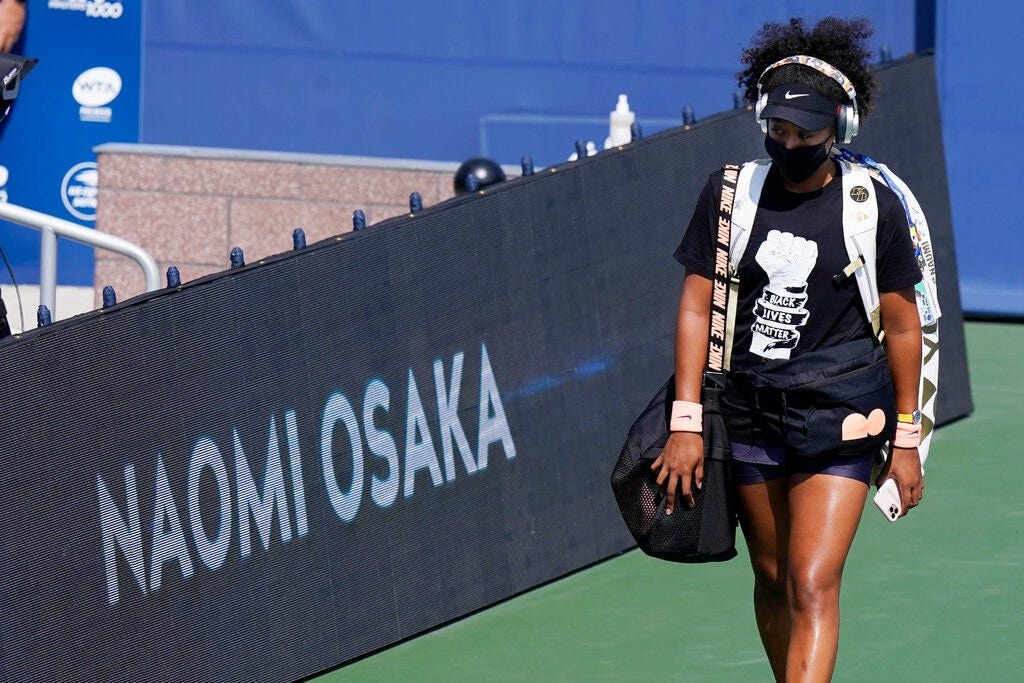 // sports

2. Naomi Osaka sits out tennis match in protest of the police shooting of Jacob Blake
If you don't know who Naomi Osaka is, you better get ready. Not only is the Japanese / Haitian tennis champion the first Asian player to hold the top ranking in singles, she is starting to use her celebrity to voice powerful messages.

This week, she opted to sit out a semi-final match at the Western and Southern Open in protest of the police shooting of Jacob Blake in Kenosha, WI. This prompted the tournament to postpone all matches. Osaka returned to the court after two days absence and won her next match.

Back in July, she called out critics who criticized the swimsuit photos she had posted on her Instagram account.

Osaka, who is the highest paid female athlete in the world, has also spoken out about the role athletes can play in political issues, particularly anti-racism.

As she said when she returned to the court this week, "Honestly, I'm more of a follower than a leader," she continued. "I like to follow things. I was just waiting and waiting, and then I realized I would have to be the one to take the step."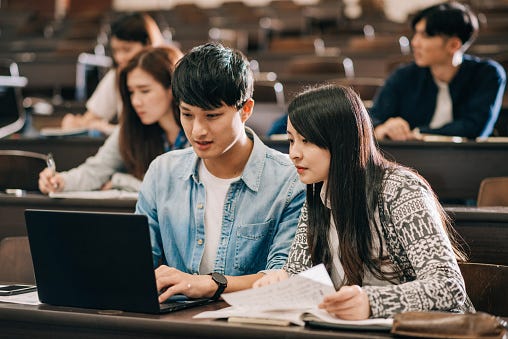 // education


3. When Asians don't get into their first choice college...

This week Educational Research published a research paper that studied what happens if Asian students don't get into their first choice of college. The short answer? -- they do just fine.

The longer answer --

"Over all, our findings countered the claims made by the two groups that served as the impetus of the Justice Department's investigation," said study co-author Mike Hoa Nguyen, an assistant professor of higher education at the University of Denver. "We found that only small differences, if any, exist between the self-reported outcomes of Asian American students who were admitted to and attending their first-choice university and those students who were not."

(Inside Higher Ed)
// aapi news

4. Yale Law Professor, husband of Tiger Mom, suspended over sexual harassment claims
Jed Rubenfeld, husband of Amy Chu who coined the phrase Tiger Mom, has been suspended for two years following an investigation of sexual abuse claims. From NY Mag, "The allegations, which spanned decades, included verbal harassment, unwanted touching, and attempted kissing, both in the classroom and at parties at Rubenfeld's home."

Rubenfeld has denied all of the accusations.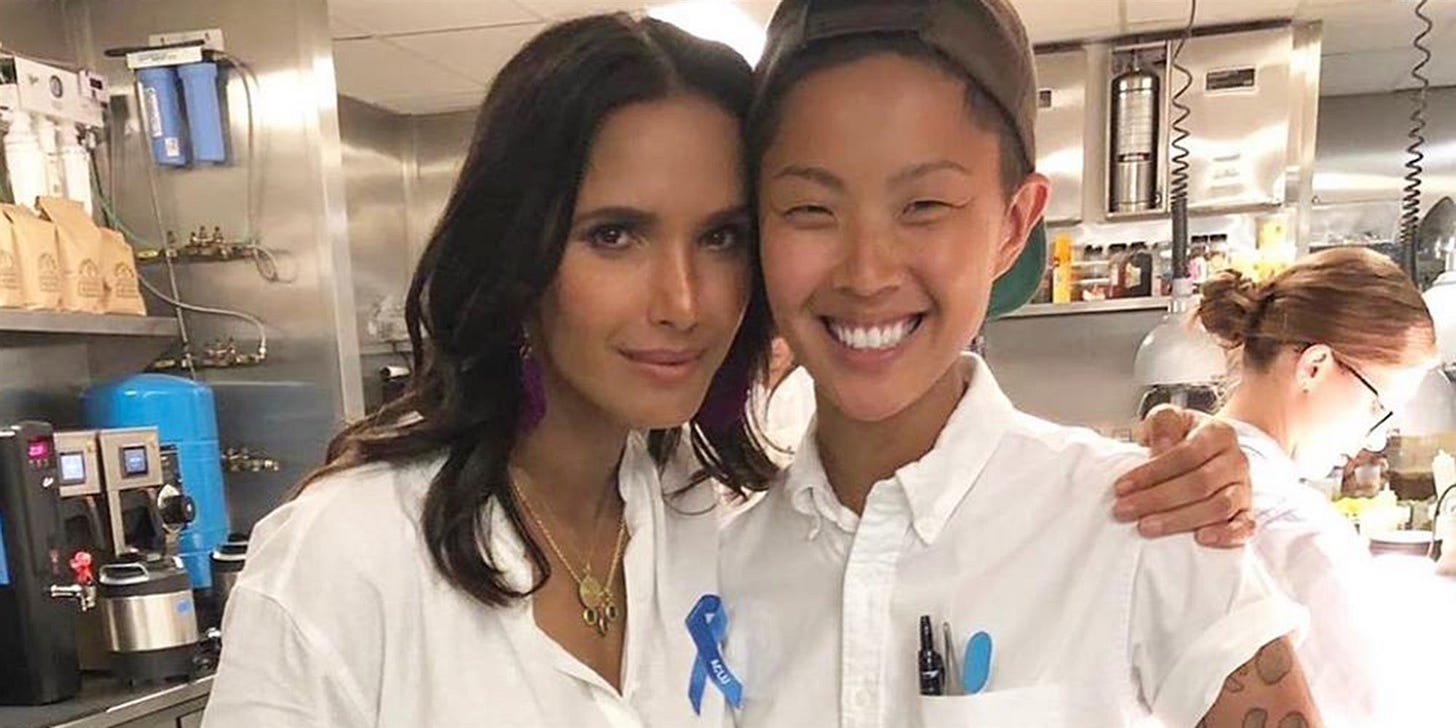 // food

5. Kristen Kish breaks free
In a really nice profile piece, Today talks to Kristen Kish about her upbringing, her culinary passions, winning Top Chef, and leaving Menton by James Beard Award-winning restauranteur Barbara Lynch to "break free".

Kish is currently advocating for female voices in the kitchen and media via a Hulu documentary titled "A Woman's Place."