Discover more from Crushing The Myth
We're passionate about bringing you the most headlines around Asian American news and newsmakers.
CTM AAPI Highlights 📰  Flushing Gentrification. Hate Crimes Task Force. Awkwafina Show Renewed.
Forwarded this newsletter? Sign up here.
Want more AAPI news & analysis ? Sign up here.

This week's AAPI highlights.
Listen. Learn. Inspire.

AAPI News of the Week
1. 'Not what it used to be': in New York, Flushing's Asian residents brace against gentrification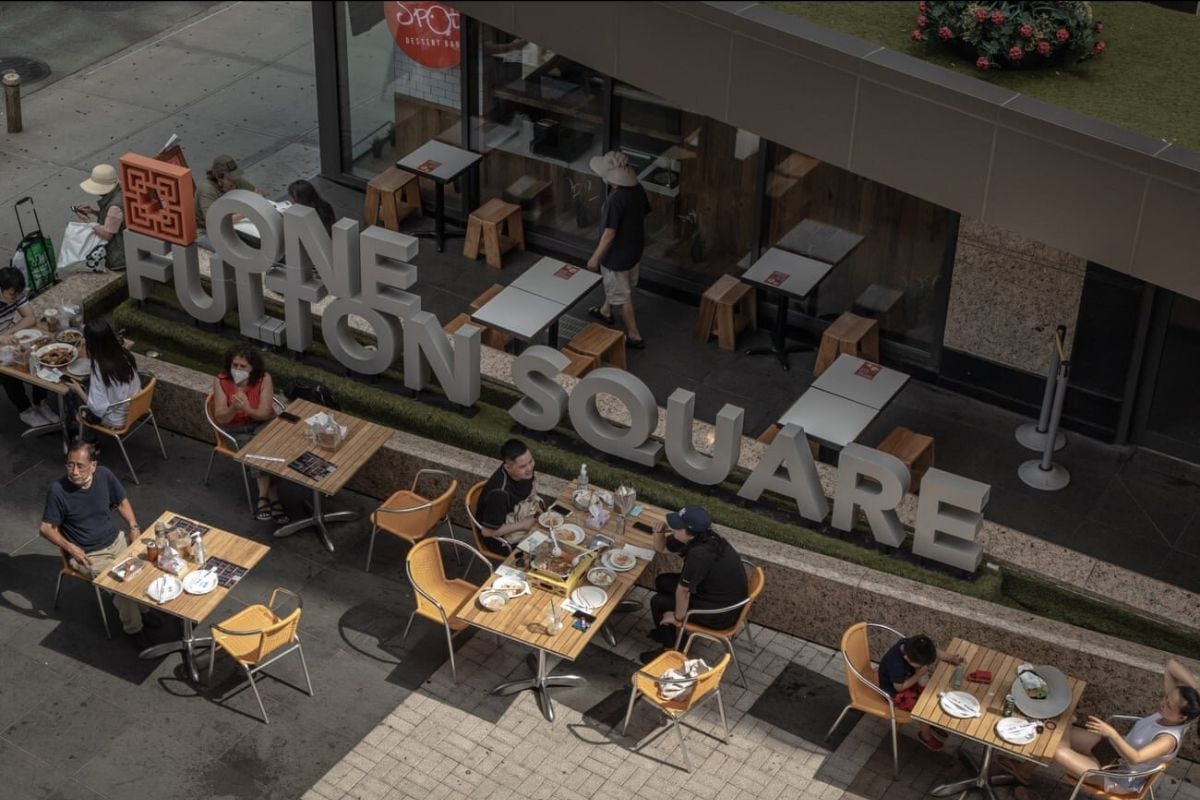 The optics of a white man trying to grab a young woman of color, while police officers stood by, was ripe for outraged clicks. After a tense debate a public hearing on 10 February, the Queens community board chair, Eugene Kelty, lunged at a Chinese American woman who was part of a large group opposing a special waterfront district in Flushing, New York.

Later that night, the board – whose leadership is almost all white and had conducted the entire hearing in English – voted in favor of the waterfront district, which would pave the way for more luxury developments there.

What wasn't captured in the videos that circulated after the meeting that night was who was seated near the front of the room: the developers – F&T Group, Young Nian Group and United Construction and Development Group – who own most of the property in the waterfront and have formed a development consortium, FWRA LLC, to push aggressively for its development.
2. NYPD creates Asian Hate Crimes Task Force after spike in verbal, physical assaults amid pandemic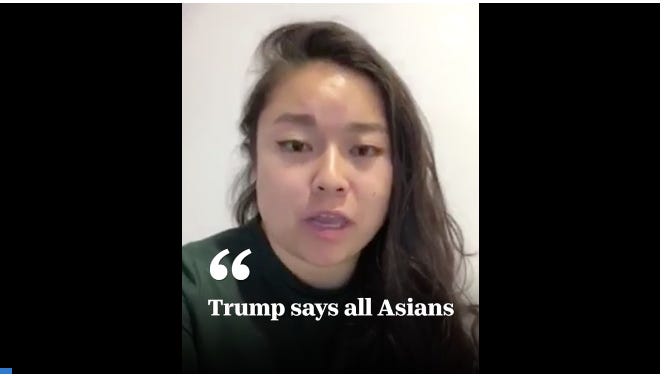 The New York Police Department announced it has created a task force specifically to deal with a rise in hate crimes against Asian Americans amid the coronavirus pandemic.

There have been 21 reported anti-Asian hate crimes leading to 17 arrests since March around the time the pandemic intensified in the United States, which Chief of Detectives Rodney Harrison told reporters is higher than normal Tuesday.

"This increase was cultivated due to the anti-Asian rhetoric about the virus that was publicized and individuals began to attack Asian New Yorkers, either verbal attack or physical assault," Harrison said. "We saw a spike in every borough throughout the city."

Harrison said that although the city's Hate Crimes Task Force was investigating the crimes, the specialized team was necessary because victims were sometimes reluctant to follow up with investigators because of language barriers, cultural differences and fear of the police.

3. 'Awkwafina is Nora from Queens': BBC Three picks up Comedy Central show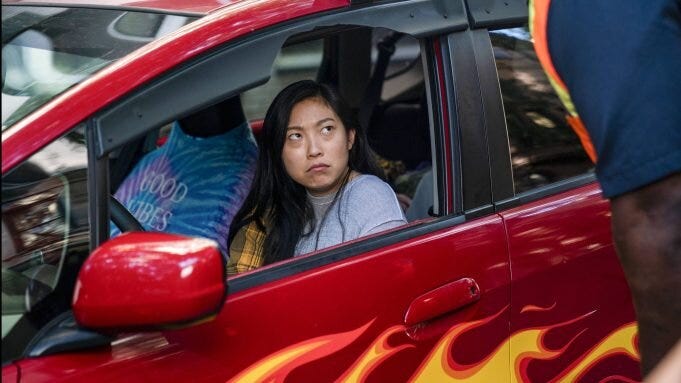 The BBC's youth streaming service BBC Three has acquired the first season of Comedy Central's hit scripted comedy Awkwafina Is Nora From Queens.

The 10-part series will land on BBC Three later this year and is headlined by Awkwafina, who stars in Crazy Rich Asians and won a Golden Globe in January for her role in The Farewell.

The show is inspired by her real-life growing up in Queens, New York. Raised by her Dad (BD Wong) and Grandma (Lori Tan Chinn) alongside her cousin (Bowen Yang), Nora Lin leans on her family as she navigates life and young adulthood in outer borough-NYC.

Awkwafina Is Nora From Queens was renewed for a second season before the first even premiered on Comedy Central. It became a big hit for the ViacomCBS network, with its season finale drawing record ratings.

(@deadline)

AAPI Minds of the Week
4. I Thought Anonymity Was a Shield After My Sexual Assault. But Coming Forward Me Back to Myself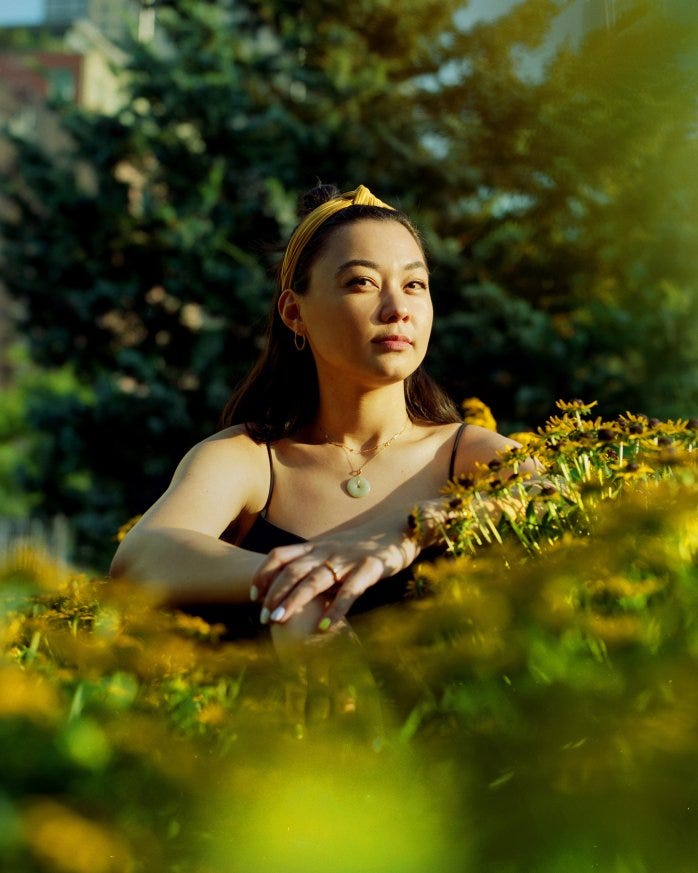 Last year, I published Know My Name, a memoir about my experience being sexually assaulted on Stanford's campus in 2015, the trial that followed and what I began to understand about healing and justice. For three years before the book's release, I wrote while remaining anonymous, known only to the public as "Emily Doe." Writing my book was like sitting at a desk inside a vast, empty dome. Every day I typed alone in the quiet, my sole job being to extricate the story. When I agreed to write a memoir, I could not guarantee that I'd reveal my identity. So from 2016 to 2019 I threaded sentences together while protected and insulated from the world, blissfully unknown. The only time my phone would ring was on Friday mornings, my editor calling to make sure I was submerged, but not sinking. She was the only person to have read a single word. In March 2019, I finished the manuscript, papers churning out of my printer, a thick stack on my desk. It was satisfying to have tied off loose ends. But I still had one little dangling string. The decision sat heavy before me: keep hiding or disclose my name.

Read more about author, Chanel Miller.
5. 'Patriot Act With Hasan Minhaj' Canceled at Netflix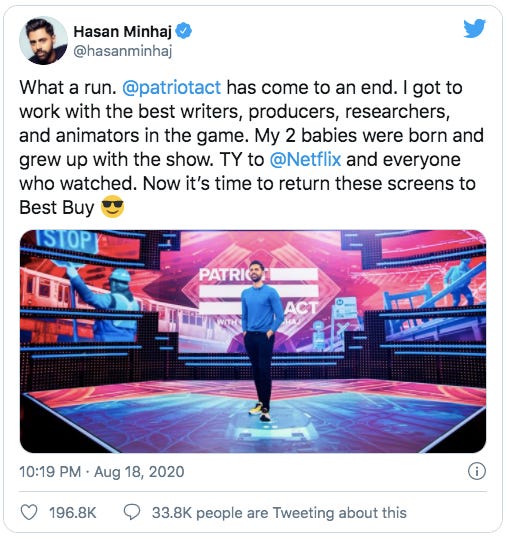 "Patriot Act" aired for 39 episodes across six seasons on Netflix and covered timely and topical political and cultural moments. Recent episodes covered the coronavirus crisis, George Floyd's death at the hands of police officers, the upcoming election and the price of attending college. During its run between October 2018 and June 2020, it was widely praised and won an Emmy and Peabody Award. The final season was postponed due to the pandemic and aired on the streaming service in June. The entire show will continue to be available on Netflix.

Talk shows have been a challenging genre for Netflix as an on-demand service, as multiple other shows such as Chelsea Handler's "Chelsea," "The Break With Michelle Wolf," and "The Joel McHale Show With Joel McHale" all failed to last more than a few seasons (the latter two were canceled after only one). Sources stressed to Variety that when it comes to renewal decisions for any program, Netflix heavily weighs viewership against the cost of production.

Read more about Hasan Minhaj.
6. InspirAsian of the Week (Instagram Feature)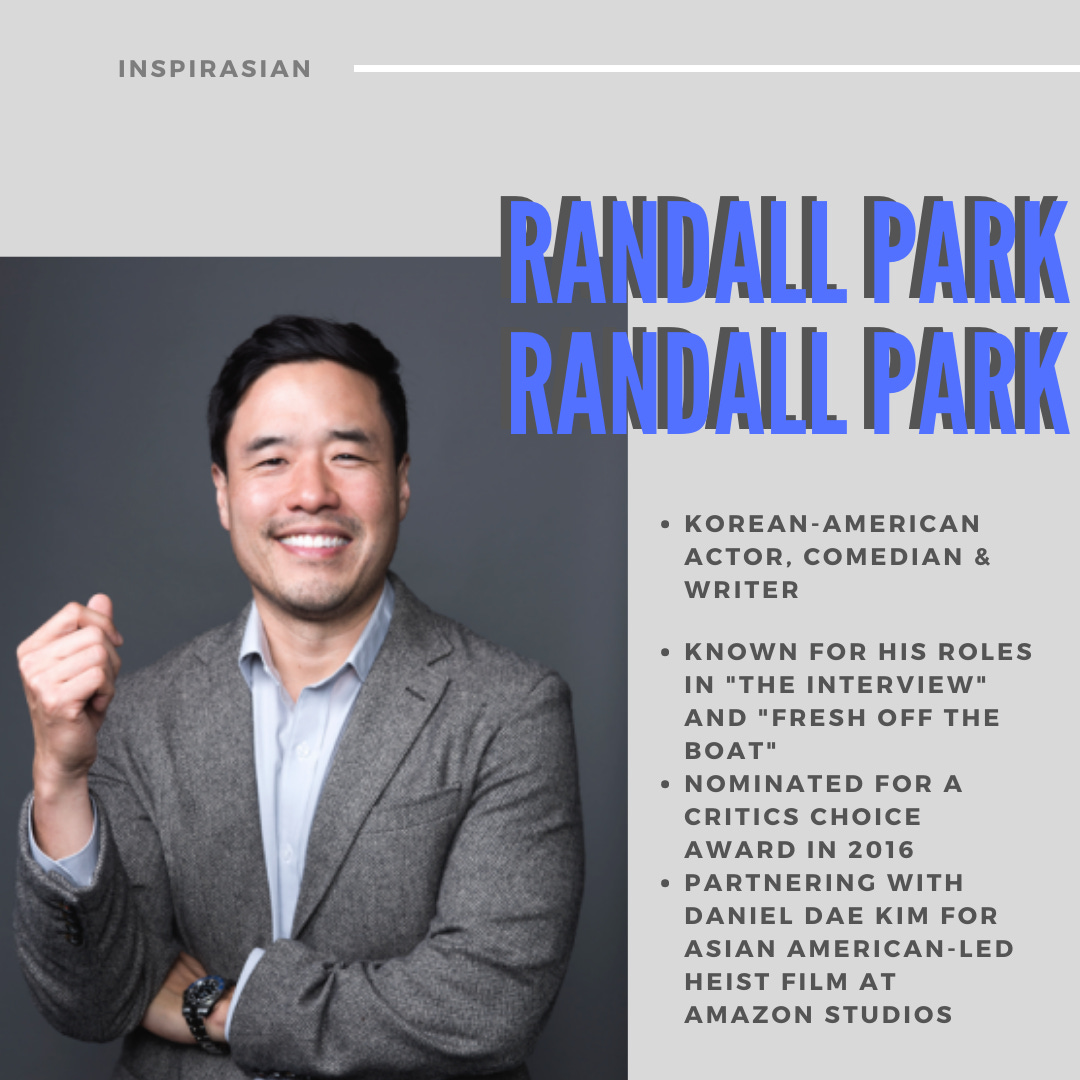 Learn more about Randall at our Instagram page

AAPI Story of the Week
7. Be Unapologetically Authentic | Roni Mazumdar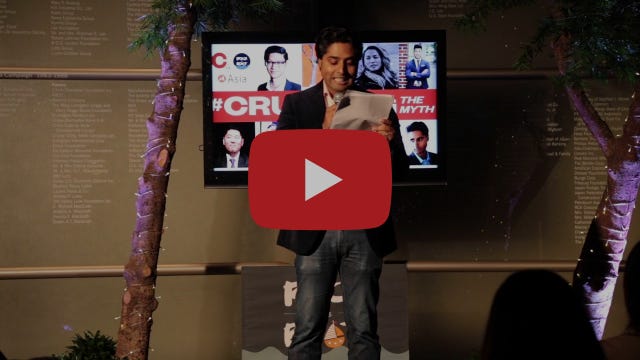 "Even a year ago, I might have cringed at sharing the story that I was helping my father run a fruit cart in the financial district in the late 90s. Looking back, I wondered why it felt so awkward sharing the greatest entrepreneurial journey of my entire life --- which was running a fruit cart."
Part of Crushing The Myth's Speaker Stories.