Crushing The Myth - Thank You!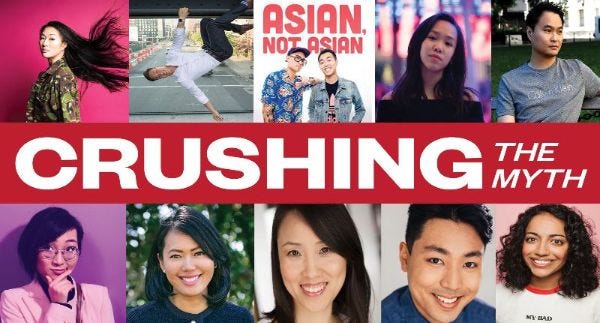 Thanks for coming out!
We hope you had a great time listening to all our amazing speakers this past weekend and getting to know some great new people! In case you missed any of the talks or want to rewatch some of your favorite speakers, you can check out their videos on our Facebook page here. Shoutout to all our speakers and partnering organizations - we couldn't have done this without you.


We want to hear from you
Have some thoughts on the event? We want your feedback so we can continue to improve and make this speaker series the best it can be. Help us out by taking a couple of minutes to fill out this survey and tell us what you'd like to see in future events!
Crushing The Myth Speaker Series

Interested in hearing more amazing speakers talk about Asian American topics? Check out the next few events we have planned in Boston, DC, NYC, LA, SD and more.
Want to help with Crushing The Myth?
We need ambassadors, organizers, marketers, and supporters. If you'd like to help in any capacity, please join our FB community group and let's crush some myths!

If you know of a potential speaker, please refer them to us.
If you know of a potential sponsor, please refer them to us.

Even if you'd just like to be part of the CTM community and keep up with the ongoings, please join our FB community group.
Upcoming AsAm Events
Looking for something fun to do in the next few weeks? Check out some of these upcoming events from our partner organizations:


Taiwanese American Professionals - New York (TAP-NY)
February TAPpy Hour at Mission: Stoplight Party

STOP what you are doing and come to our February TAPpy Hour with a MISSION because this party is a GO! In an exclusive special, TAP-NY presents our very first Stoplight Party at Mission, the hottest club in K-Town! With a subtle nod to Valentine's Day and our upcoming speed dating event, we'll be distributing three different colored glow sticks that signify your relationship status.

GREEN: "Hey, I'm single and totally ready to mingle."
YELLOW: *Sigh* "It's kind of complicated…"
RED: "I'm not interested, but just want to make new friends!"

We will have exclusive access to the space beginning at 7 PM, so come early to grab some drinks with your favorite TAP members and kick off your weekend with a bang.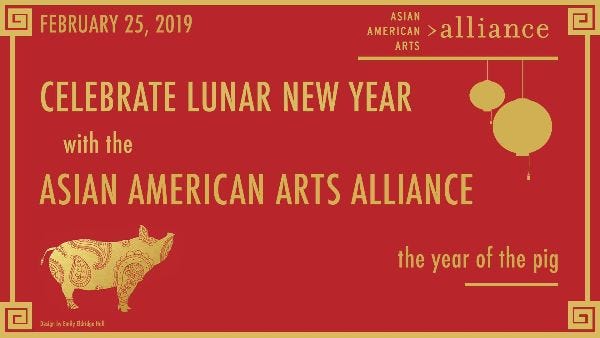 Asian American Arts Alliance




Lunar New Year Celebration - February 25, 2019

Join us as we welcome the Year of the Pig with a special Lo Hei dinner, drinks, and entertainment!

Lo Hei (or Yusheng) is also known as Prosperity Toss and is a Cantonese-style raw fish salad popularized in Singapore and Malaysia. (We'll also have a non-fish version available.) For this communal ritual, each Lo Hei ingredient is introduced with a saying symbolizing a wish for the new year, culminating in all participants shouting wishes and tossing the ingredients with chopsticks—the higher your toss, the higher your fortune's growth. Emcee Kate Rigg (Slanty Eyed Mama) will lead us through the ritual in a fun and festive performance. Learn more.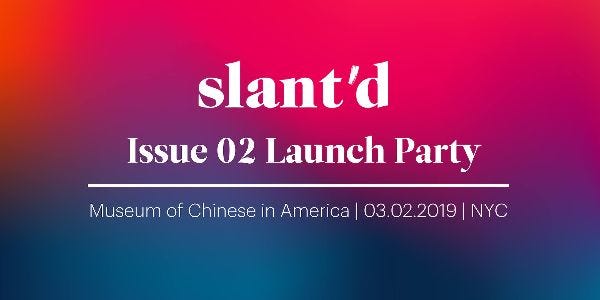 Slant'd Issue 02 Launch Party - March 2, 2019

We're bringing it home to where it all started.

Come eat, drink, and be merry with the Slant'd family as we celebrate our boldest issue to date. It's the final stop of the Slant'd Issue 02 Launch Tour — and definitely not one to be missed. Learn more here and get your tickets today!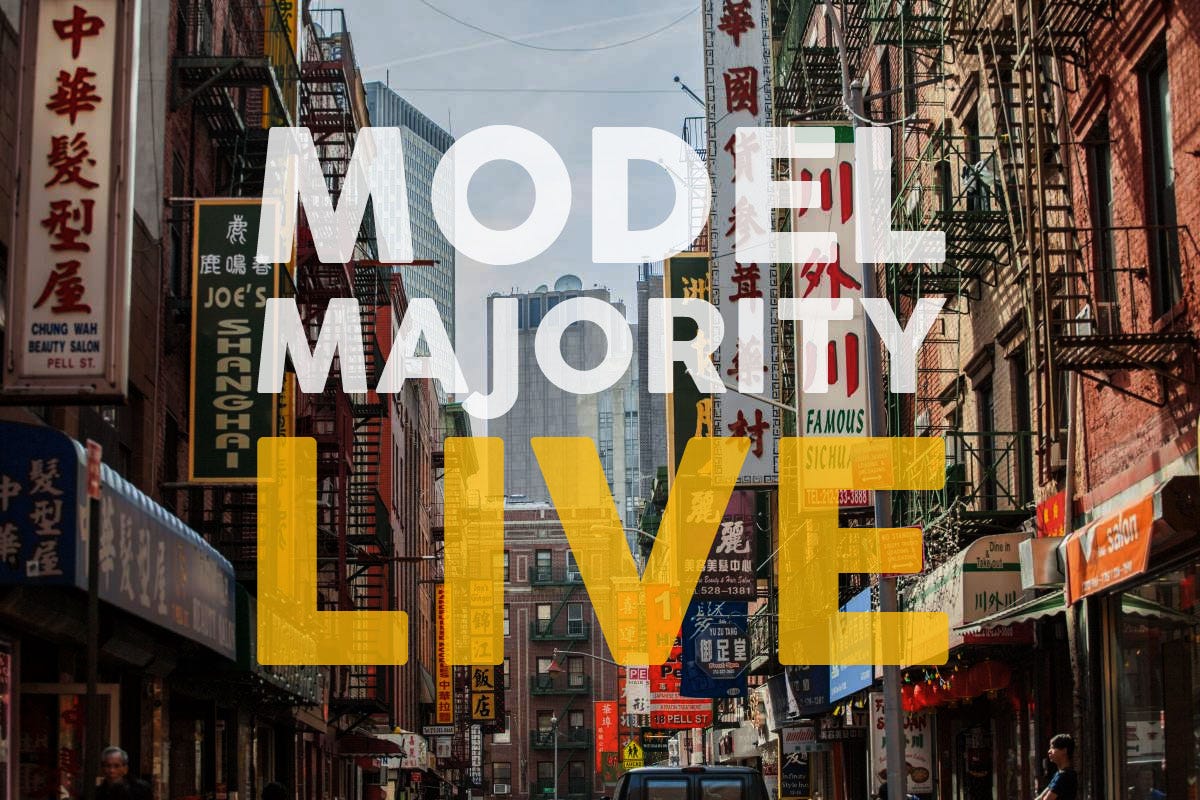 Model Majority March Madness
Date; Wednesday, March 27
Time: 8pm
The Tank (312 West 36th St, 1st Floor)
Save the Date! NYC's 1st Asian-American sketch comedy team MODEL MAJORITY is back with their Timeout NY recommended show. Enjoy an evening of comedy written, directed and starring Asian Americans. You don't have to be Asian to appreciate, but Asian characters will not be played by Emma Stone.

Cast members have appeared at UCB, Caroline's, Gotham Comedy Club, Stand Up NY, and Broadway Comedy Club. TV/Film credits incl. Saturday Night Live, Late Show w/Stephen Colbert, Comedy Central, Tracy Morgan's The Last OG, Full Frontal with Samantha Bee, Blue Bloods, Step Up 3, Blacklist, Ray Donovan and Law & Order: SVU.

Please follow us @modelmajority Facebook/Instagram @modelmajority1 Twitter to know when tickets will be released. All shows have sold out early.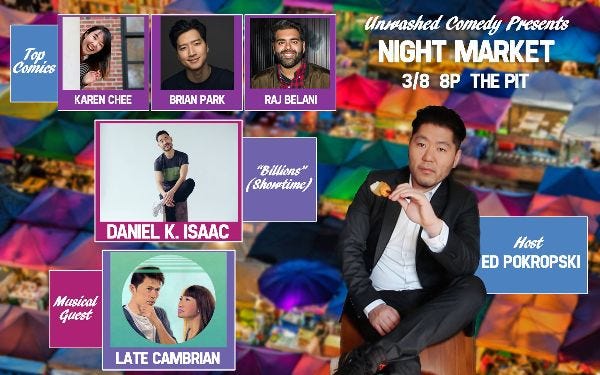 Unwashed Presents Night Market @ThePit




March 8th, 2019 - The Peoples Improv Theater

Night Market is an all Asian variety talk show featuring the country's top Asian American comics, actors, musicians and headline makers. It is hosted by Ed Pokropski, Producer at NBCUniversal and standup comedian. Much like the Night Markets in Asia, our show is hot, buzzing and offers something for everyone! Get your tickets here.
AsAm Podcasts & Magazines
Looking for something new to listen to or read? Check out these great podcasts and magazines focused on Asian American topics!


Rock The Boat Podcast

Rock the Boat, a new podcast that shares the stories of Asian Americans in unconventional career paths. You can tune in to Season 1 episodes now on iTunes, Spotify, Anchor, or most places you listen to podcasts. Season 2 is coming up in May and will feature Asian American storytellers, creators, entertainers...if this sounds like you, or you know of anyone in those fields, reach out to them: email hello@gorocktheboat.com or Instagram DM @rocktheboatnyc. Visit their Facebook page here.


Asian, Not Asian Podcast

Welcome to "Asian, Not Asian", a podcast by two Asian guys not from Asia talking about American issues no American seems to care about. Each week, Fumi Abe and Mic Nguyen will discuss race, politics, media, funny stuff, food pics, peace signs, model minority myths, urban myths, and urban outfitters. New episode every Monday!


Now In Color Podcast

Now In Color is a weekly podcast hosted by Sandie Cheng that brings POC stories, erased from history, back to the forefront. Check out their newly released episodes here.


Hapa Mag

Hapa Mag is a publication by Hapas, for everyone.

Here at Hapa Mag, we believe that the word Hapa celebrates our unique identities. Throughout its history, "Hapa," has taken on different meanings for different people. It originated from the Hawaiian pidgin word for "half," and for many of us, it has come to mean that you're part Hawaiian, Pacific Islander, and/or Asian.

To be Hapa is to be a part of a diverse and growing community with many perspectives. We hope to capture these mixed stories and experiences within each issue of Hapa Mag. Read all about it here.