Discover more from Crushing The Myth
We're passionate about bringing you the most headlines around Asian American news and newsmakers.
CTM Weekly Digest - The Day My Dad Found Out I'm Bi-Polar | My Journey To Getting Woke AF And Why You Should Too (10/13/19)
QUICK POLL / HELP US IMPROVE!
What do you like BEST about these weekly newsletters?  *|SURVEY:Past speaker spotlights/videos|* *|SURVEY:Upcoming speaker profiles|* *|SURVEY:Other Speaking Events in NY & LA|* *|SURVEY:Other Asian American Events in NY & LA|*

 
Speaker Spotlight: Jon Chang



Jon Chang - The Day My Dad Found Out I'm Bi-Polar / CTM (03) NY
Jon Chang, a Mental Health Advocate and Marketer recently named in Forbes' 30 Under 30 list for Marketing & Advertising, shares his experience with bi-polar disorder and how it has affected his relationship with his father.
Upcoming Speaker: Teri Yuan
"My Journey Getting To Woke AF And Why You Should Too"

(Come see Teri speak at Crushing The Myth (08), Oct. 26th in NY)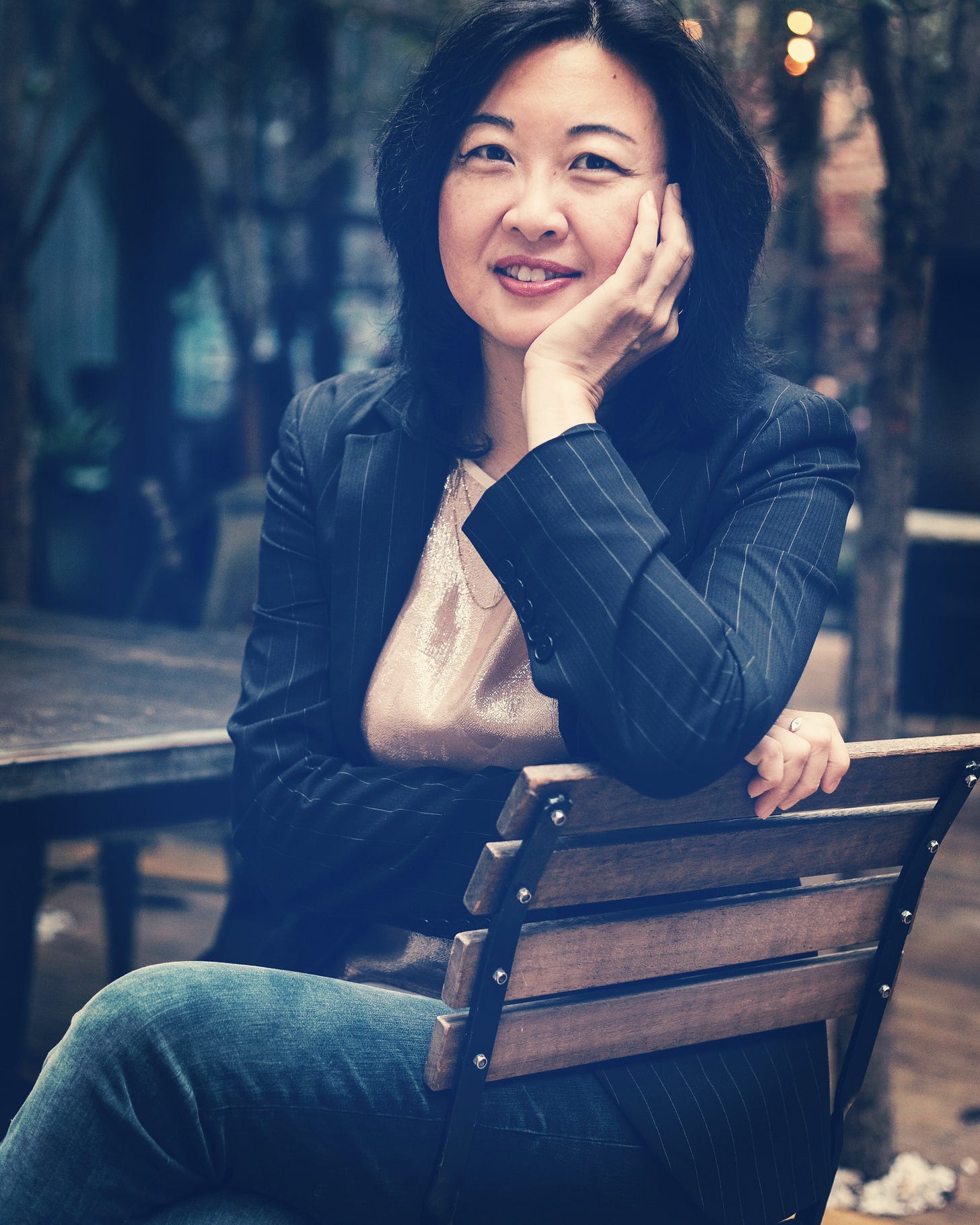 Teri is the host and producer of the weekly en(gender)ed podcast.

"I started en(gender)ed as a response to the advocacy work I do in New York City on behalf of survivors of domestic violence and coercive control. I am often one of a handful of survivor voices in the room, asking bold questions, and holding the participants accountable. I want to end gender and sex-based violence and oppression and believe that a first step is helping us all learn the same vocabulary and speak the same language."

+++

Get your tickets today!

October 26th, 2019 - CTM 08 (NY) "Romance"
December 5th, 2019 - CTM 09 (LA) "Redemption"

+++

* Want to be (or refer) a speaker? fill out this quick form.
* Want to connect with a CTM speaker? fill out this quick form.

Love Speaking Events?
Check these other events in NY/LA
New York

Monday 10/14 -
* Chef Sean Brock in Conversation with David Chang
* Rep. Adam Schiff in Conversation with Nicholas Kristof

Wednesday 10/16 -
* Fashion Icons with Fern Mallis: Jim Moore
* HCCC Speaker Series - Saul Flores: The Walk of the Immigrants

Thursday 10/17 -
* Sinatra with Words by Sammy Cahn
* Legendary Investor Charles Schwab in Conversation with Glenn Fuhrman
* Julie Andrews Reflects on Her Life in Hollywood

Saturday 10/19 -
* Julie Andrews and Emma Walton Hamilton in Conversation with Annette Insdorf

Los Angeles

Wednesday 10/16 -
* Mike Isaac in conversation with Nick Bilton

Thursday 10/17 -
* Ambassador Susan Rice in conversation with Mayor Eric Garcetti
* 2019 RMC October Dinner Meeting: Guest Speaker Maggie Carter
Sponsors

Thank you to our community sponsors: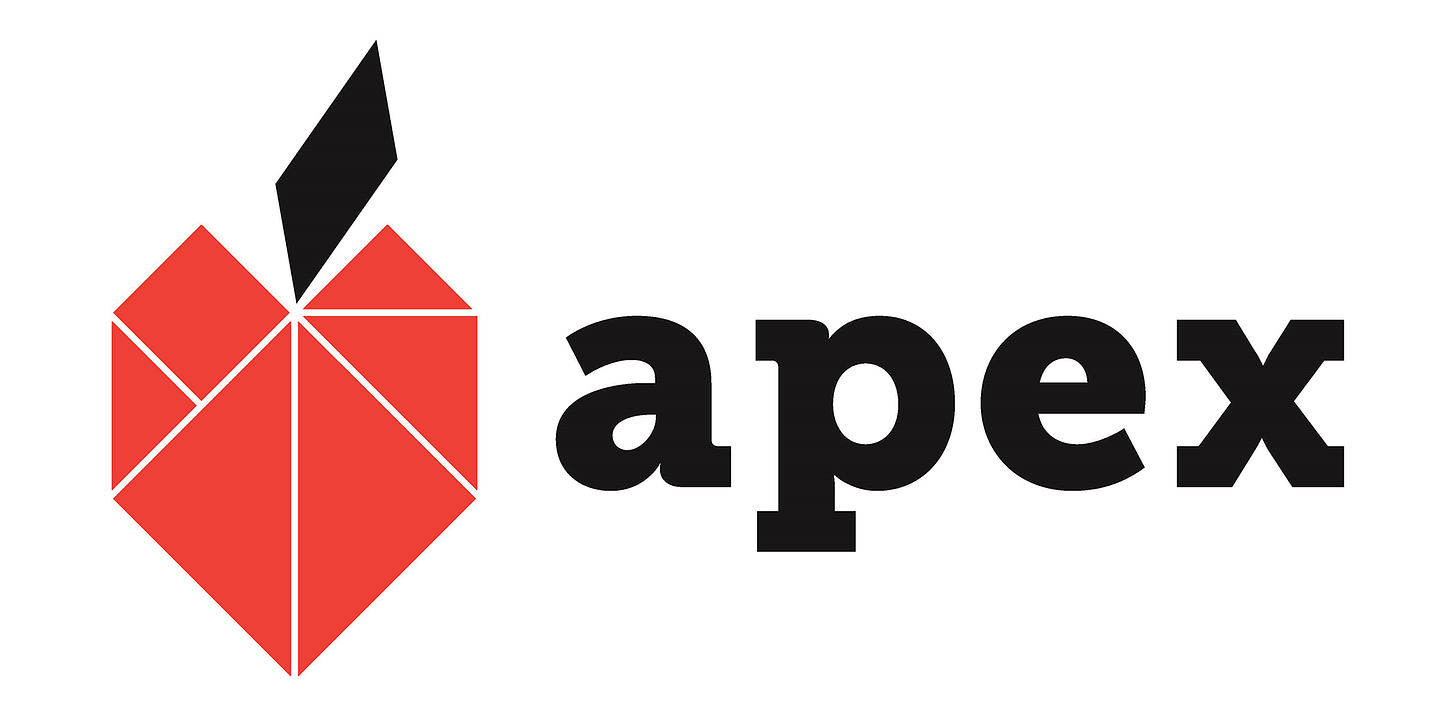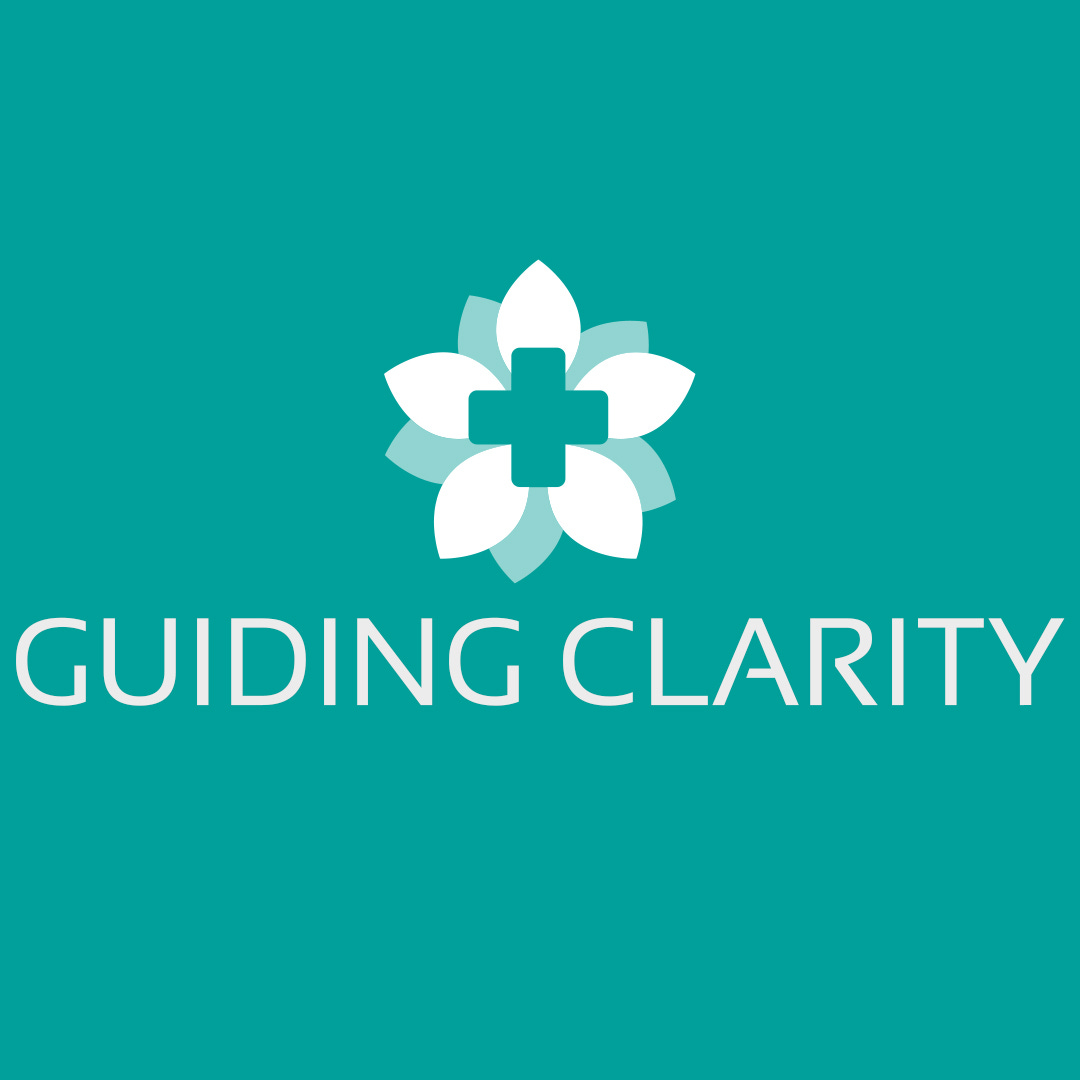 Upcoming AsAm Events
Looking for something fun to do in the next few weeks? Check out some of these upcoming events from our partner organizations:

+++




Apex For Youth

BECOME A VOLUNTEER AND HELP UNDERSERVED ASIAN YOUTH!
VOLUNTEERS NEEDED P.S. 169 in Sunset Park, Brooklyn is one of the largest Elementary schools in New York and a new site for Apex where we run our Elementary Test Prep Program (Saturdays, 9:30 a.m.-12:30 p.m. running October 19th - December 14th). We have 200 kids to encourage, inspire and connect with!

For more information on how to become a volunteer visit http://www.apexforyouth.org/volunteer, email Brooklyn@apexforyouth.org or DM us!


+++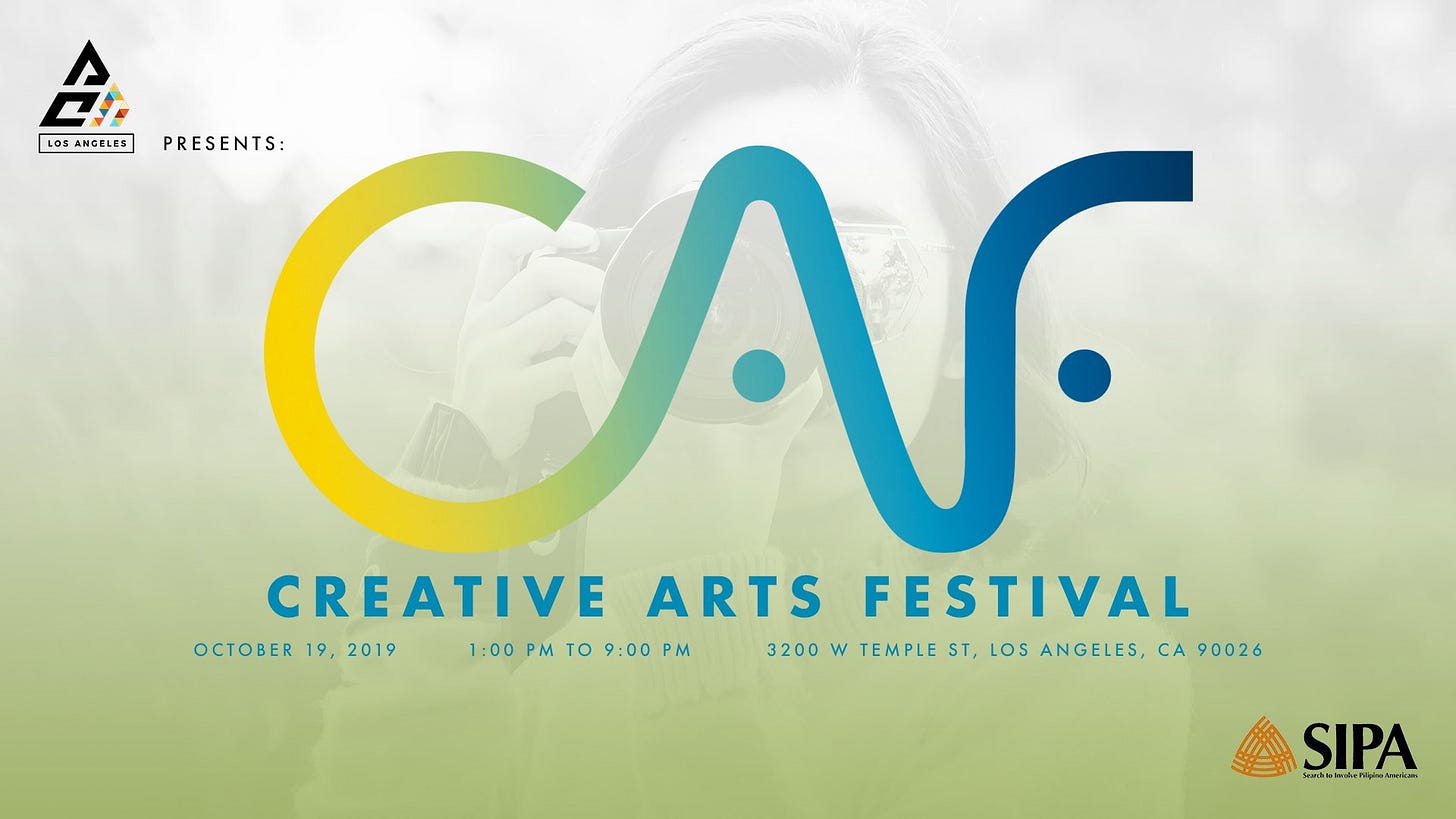 Saturday, October 19, 2019 at 1 PM – 9 PM
Search to Involve Pilipino Americans (SIPA)
3200 W Temple St, Los Angeles, California 90026

Come celebrate rising Asian American performers, filmmakers, and artists right in the heart of Los Angeles!

The Los Angeles Chapter of the Asian Creative Network is proud to present its first annual Creative Arts Festival! As Asian creatives we want to encourage and support emerging talent, and what better way to do that than having a festival?

This is a largely family-friendly event, and all ages can attend. However, due to the nature of some of the artists' work, parental discretion is advised.

+++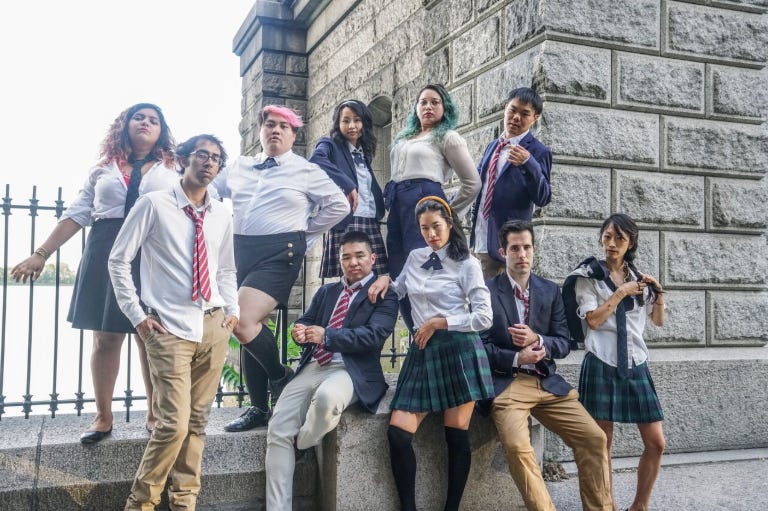 Overstep Comedy's Halloween Adventure
Sunday, October 20th @ 8pm
The PIT (Striker Stage)

Overstep Comedy, NYC's new Asian-American sketch phenomenon, is here to increase diversity and kick ass. Come for an hour of scripted comedy skits and shenanigans. Overstep's squad of writer-actor-comedians sees laughter as not merely an escape, but as an entry point into difficult conversations, into something otherwise overlooked or considered unspeakable. They also make a lot of food references because they are hungry--for both food and social change!

Special host: Mic Nguyen (Asian, Not Asian podcast)

More info HERE