Discover more from Crushing The Myth
We're passionate about bringing you the most headlines around Asian American news and newsmakers.
CTM Weekly Digest - Anatomy Of A Fight Scene | How I Fell In Love With Beatboxing (9/29/19)
Speaker Spotlight: Angela Chen



Angela Chen - Anatomy Of A Scene: How I Shot A Fight Scene / CTM (06) LA

Director Angela Chen takes us through a how-to of the pivotal fight scene in her award winning short film "Our Home Here".

"Angela Chen is following in the footsteps of Paul Haggis (Crash) and Alejandro González Iñárritu (Babel, Amores Perros) by weaving together complexly related storylines that all reinforce a similar theme. While this would be a tall feat for most young directors, Chen has over a decade of filmmaking experience under her belt. She currently holds 28 directing credits on IMDb and has premiered at several key film festivals, including Tribeca, SXSW and New Filmmakers...Her prolific and varied filmography on humanistic themes should make her a major director to watch." — Miniflix
Upcoming Speaker: SungBeats
"How I Fell In Love With Beatboxing."

(Come see SungBeats speak at Crushing The Myth (08), Oct. 26th in NY)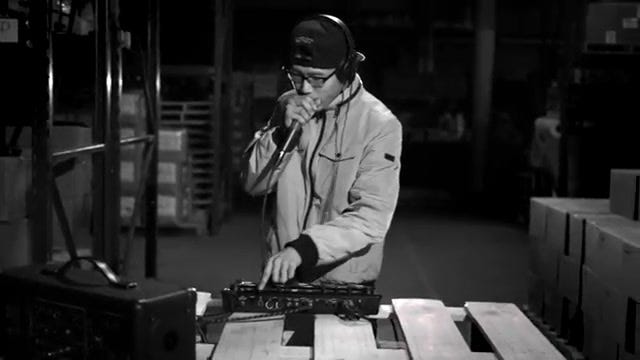 "When I was 23, I quit my job as an office clerk in Las Vegas and decided to turn this hobby of mine into a viable career. Packed my bags moved to NYC and started to busk/ street perform in NYC. After all, diving in head first is the quickest way to success. This beatboxing passion was now turned into a job/ career for sustenance with tremendous pressure to succeed and beat the odds. I poured hours of my life living and breathing music and street performing every chance I could. Over time, the accomplishments piled up. At the most memorable moments, I was performing at the world famous Apollo theater and even represented the US in international competition. My family that was dubious of my career path, was now in full support."
+++

Get your tickets today!

October 12th, 2019 - CTM 07 (LA) "Power"
October 26th, 2019 - CTM 08 (NY) "Romance"

+++

* Want to be (or refer) a speaker? fill out this quick form.
* Want to connect with a CTM speaker? fill out this quick form.

Love Speaking Events?
Check these other events in NY/LA
New York
Monday 9/30 -
* Author Talk: Roseann Lake- Leftover in China: The Women Shaping the World's Next Superpower

Tuesday 10/1 -
* A Conversation with the President of Ireland, Michael D. Higgins
* Thinking #MeToo Transnationally: Hong Kong, Taiwan, Pakistan, India, Morocco
* Fatima Bhutto — New Kings of the World
* Hillary and Chelsea Clinton: The Gutsy Women Tour

Wednesday 10/2 -
* Deepak Chopra Launch | Metahuman: Unleashing Your Infinite Potential

Thursday 10/3 -
* Susan Rice on Things Worth Fighting For
* An Evening Conversation with James K.A. Smith
* An Important Conversation with Rachel Maddow


Los Angeles
Tuesday 10/1 -
* Robert Iger in conversation with Brian Grazer
* Girls Empowerment Program: Inspirational Speaker Series

Wednesday 10/2 -
* George Will in conversation with Larry Wilmore
* Human Rights Speakers Series: LGBT Employment Rights at the Supreme Court

Thursday 10/3 -
* Candace Bushnell in conversation with Susan Feldman

Friday 10/4 -
* Debbie Harry & Chris Stein in conversation with Rob Roth
* Brad Smith, President of Microsoft in conversation with David Kirkpatrick

Saturday 10/5 -
* TEDxCrenshaw - Theme: Now or Never
Instagram
& Sponsors

We've got new content on our Instagram! Please follow us on IG and keep up with new stories, posts, and IGTV clips.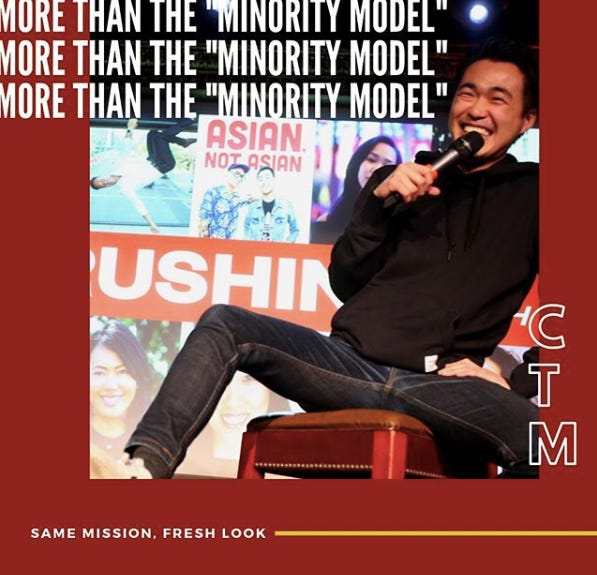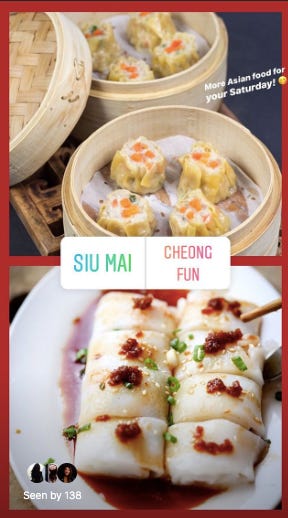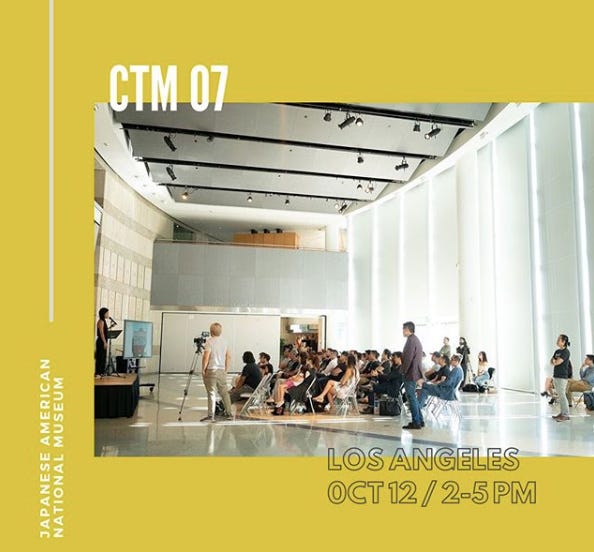 Thank you to our community sponsors: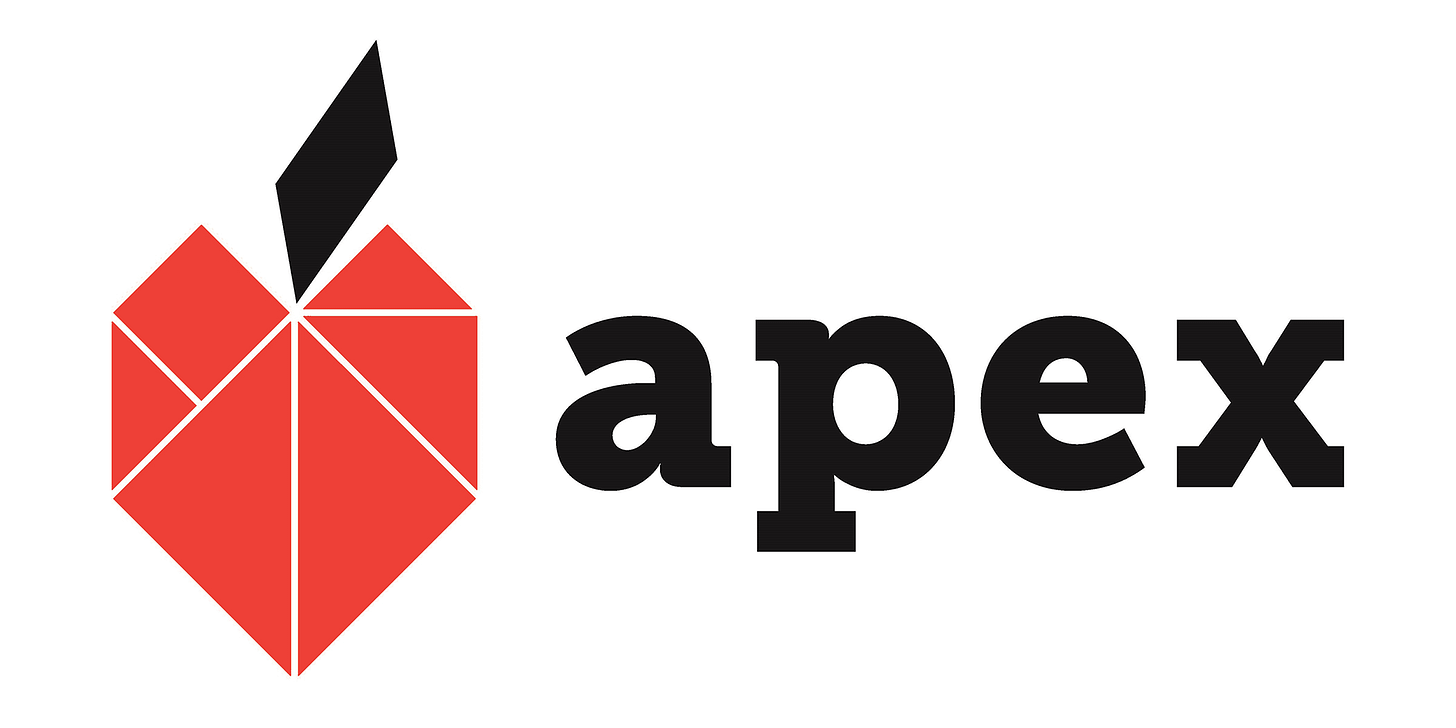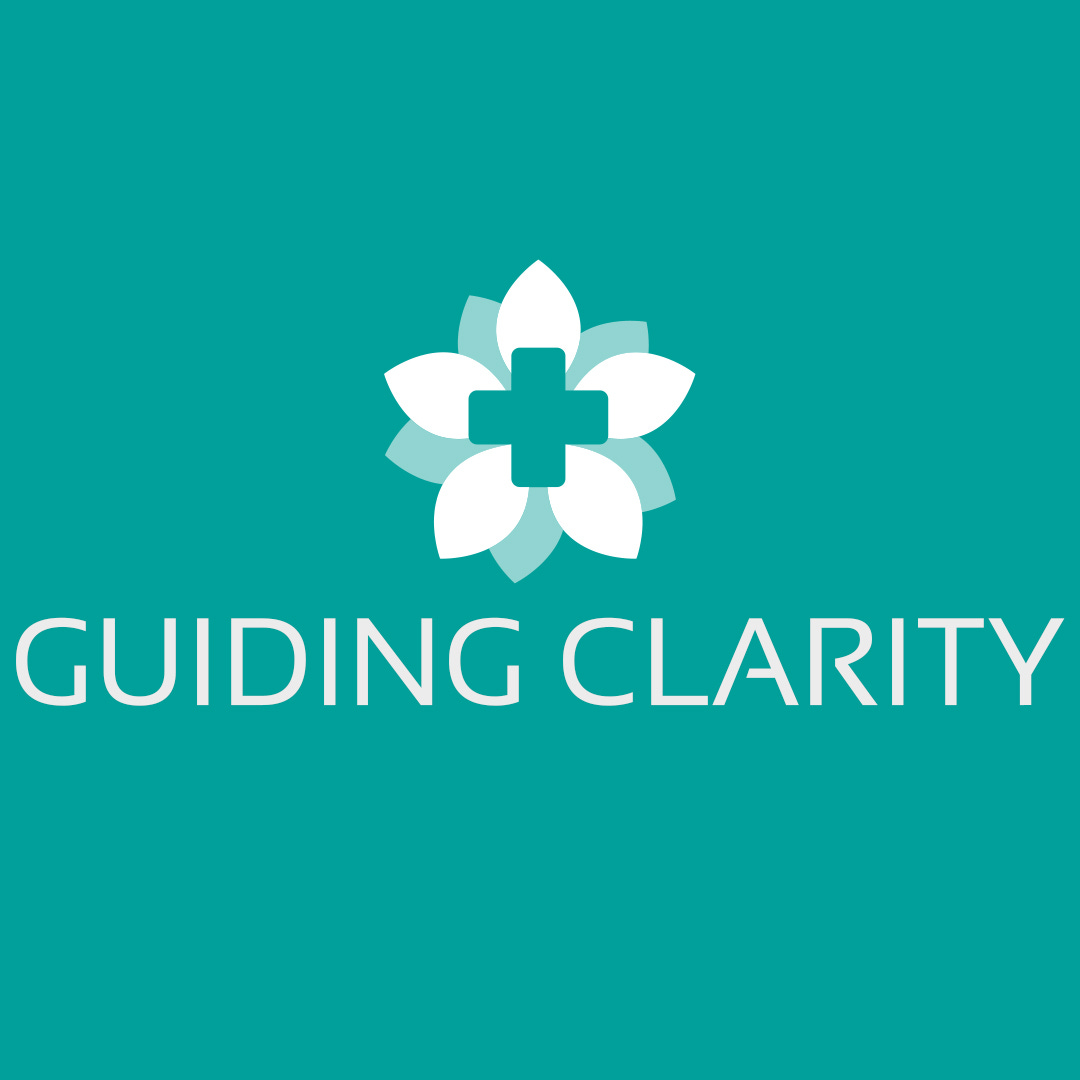 Upcoming AsAm Events
Looking for something fun to do in the next few weeks? Check out some of these upcoming events from our partner organizations:
+++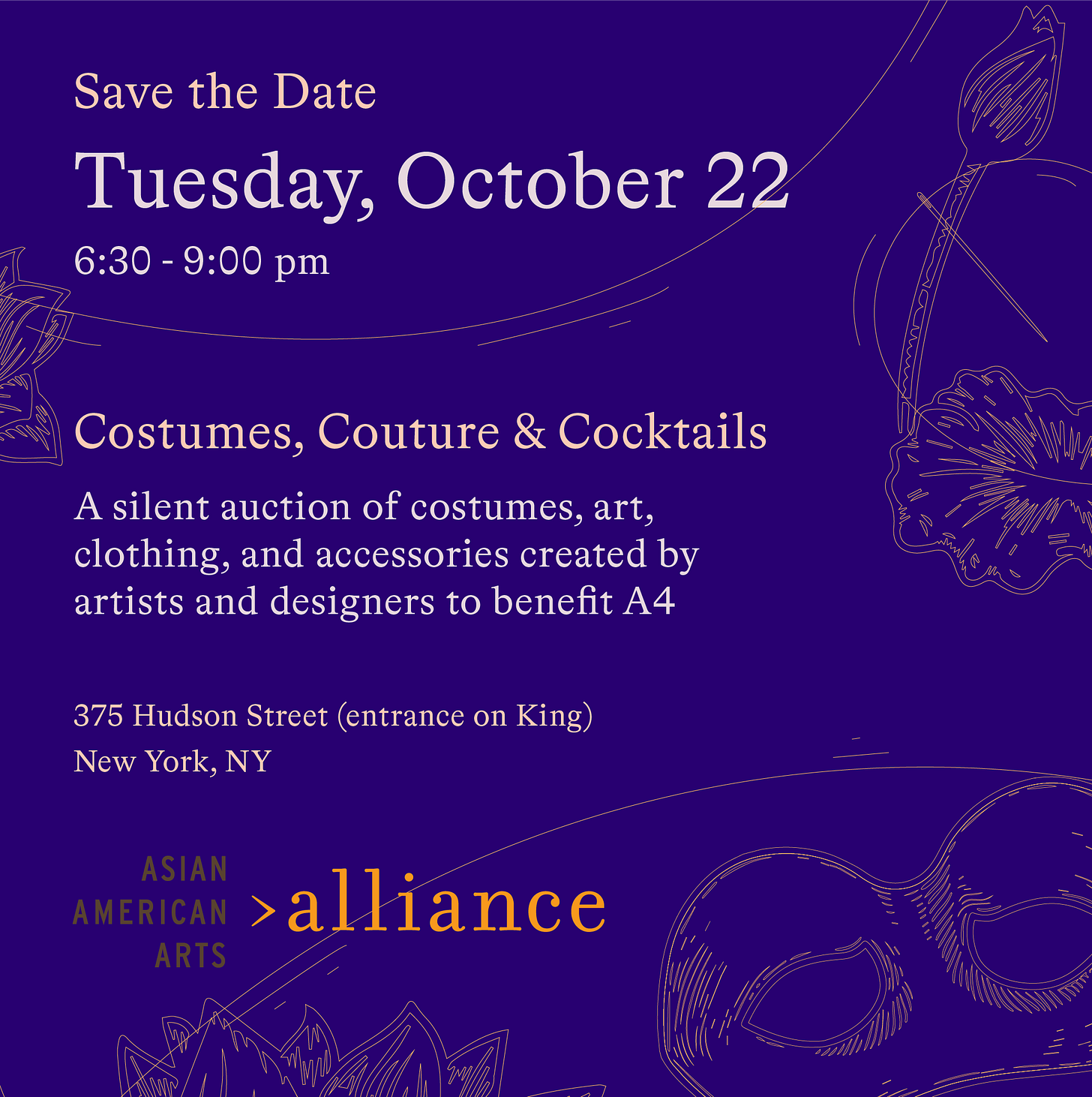 Asian American Arts Alliance
Costumes, Couture & Cocktails
October 22nd
Join A4 for a silent auction benefit featuring costumes, couture clothing, and accessories created by Asian American artists and designers. Come in costume or bid to win one! Featuring DJ sets by OHYUNG and Yasmin Adele Majeed, special performances, open bar featuring Hendrick's Gin, light fare by Bessou, and dessert by Lady M.

+++




Apex For Youth

BECOME A VOLUNTEER AND HELP UNDERSERVED ASIAN YOUTH!
Saturdays, Oct. 19th - Dec. 14th
Help 3rd, 4th and 5th grade students prepare for Mathematics and English tests through educational games, tests, and engaging projects.
WHEN
Saturdays from October 19th - December 14th 10 A.M. - 12 P.M.
LOCATION
P.S. 169
Sunset Park, Brooklyn **Just 10 minutes away from
Atlantic Ave/Barclays Center Station

EMAIL: brooklyn@apexforyouth.org

+++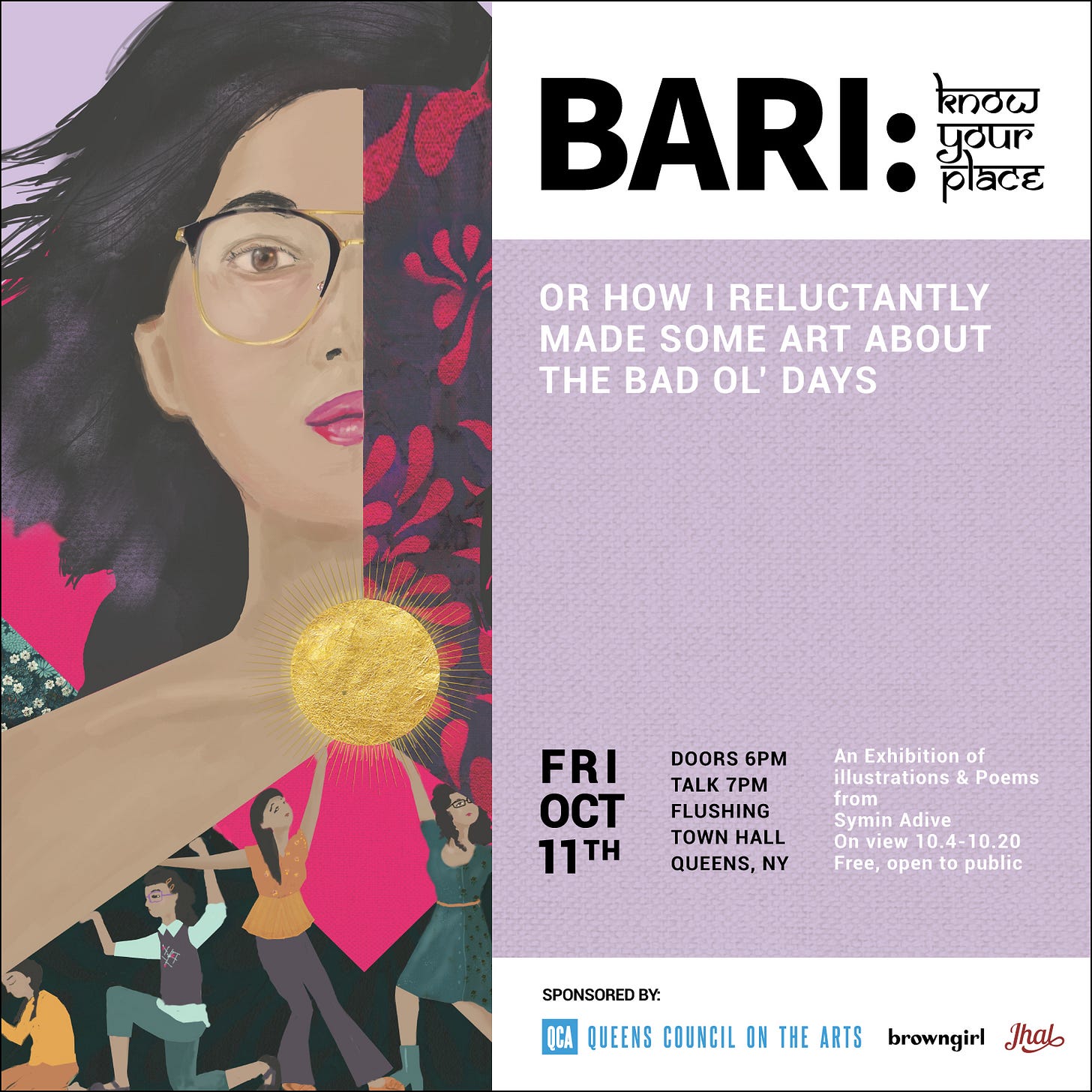 Queens Arts Fund and Flushing Town Hall




Bari: Know Your Place


Exhibit on view October 3rd-21st

Symin Adive reluctantly made some art about the bad ol' days and is giving an artist talk all about it. Inspired by the high-horizon, miniature style paintings cultivated in Southeast Asia between 15th - 18th centuries, this exhibition of illustrations and writing explores the hierarchies of family, class, race, gender, belief, sexuality, and power through grounded contemporary scenes in the life of a young immigrant as they grow to understand their "place."

This exhibition is sponsored by the Queens Arts Fund and Flushing Town Hall. Event will include an informal talk led by Brown Girl and Bangladeshi street food from Jhal NYC as well as the usual free wine one would expect at an art exhibition. Join us as we laugh/eat through the pain.