Crushing The Myth August '19 - Listen, Learn, Inspire!
What a first 6 months!!
Six months ago, I started Crushing The Myth from a little Airbnb room in Queens, NY. I had just moved from Austin to NY, having failed my last company, but still having a passion to start something new. Except this time I didn't have a technology idea, I had a passion and a feeling that Asian Americans are just starting to hit the strides of mainstream thought and culture.

Six months later, we've held six CTM events (3 in NY, 3 in LA), listened to 43 incredible speakers, had community with over 1,000 attendees, and made over a dozen introductions to creators leading to new podcasts / articles / art / music & entrepreneurship collaborations.

This fall, NBC is inviting CTM to host/organize a special NBC internal event, and schools/universities are starting to reach out and attend CTM events to connect with these inspiring speakers.

Thank you for making this all possible.

I don't know how to describe it, but there is a synergy of people in "Asian America" today discussing / creating / representing the next generation of Asian American leaders. From #goldopen to food/fashion/film/entertainment/mental health/dating/many more, you can see Asian Americans standing out and speaking up.

Our approach is to Crush The (Model Minority) Myth by being bold and proud and taking ownership of our identity instead of accepting it. But we're a piece of this movement, and so many people doing things brings us happiness.

Always,
JD

Upcoming Crushing The Myths:

(We're going to "theme" the upcoming CTMs. The speakers will always come from varying backgrounds, but there will be a broad theme that each of their stories will touch on.)

October 17th, 2019 - CTM 07 (LA) "Power"
October 26th, 2019 - CTM 08 (NY) "Romance"

* Want to be (or refer) a speaker? fill out this quick form.
* Want to connect with a CTM speaker? fill out this quick form.

Want to watch a past speaker? They're always online on our Youtube channel.

Photo Gallery
& Sponsors

Here are some of our favorite photos from the past CTM events and a special thank you to our community sponsors.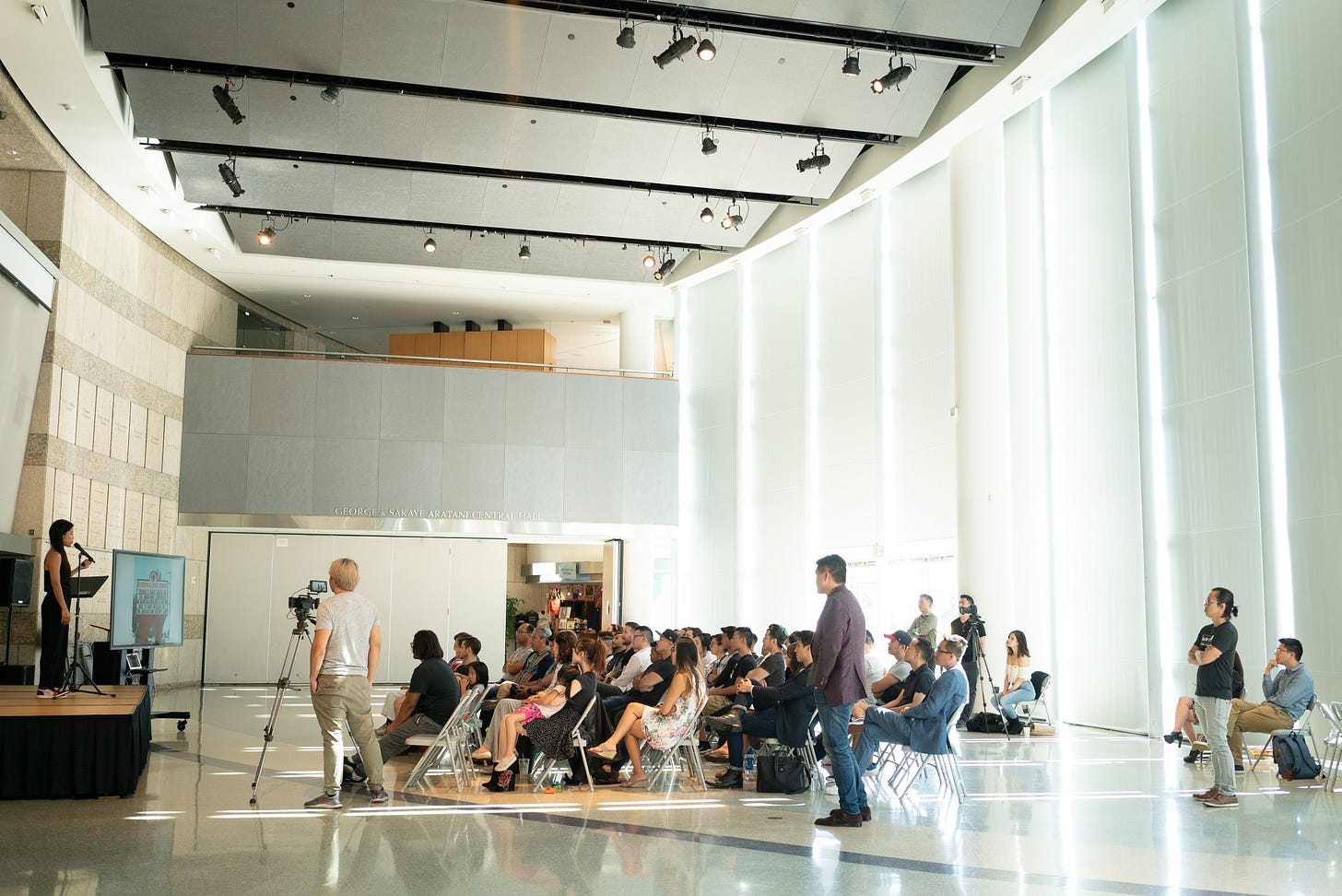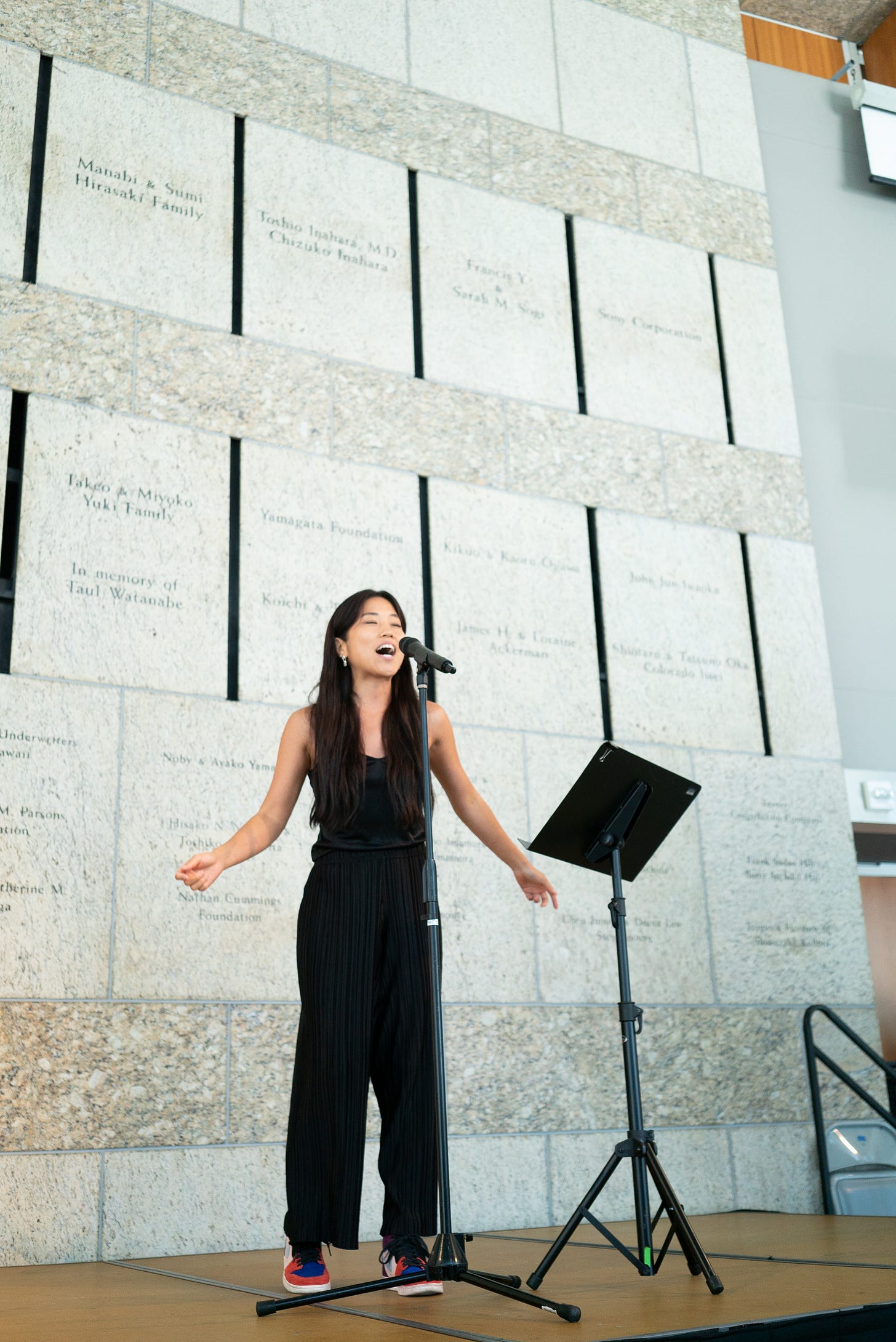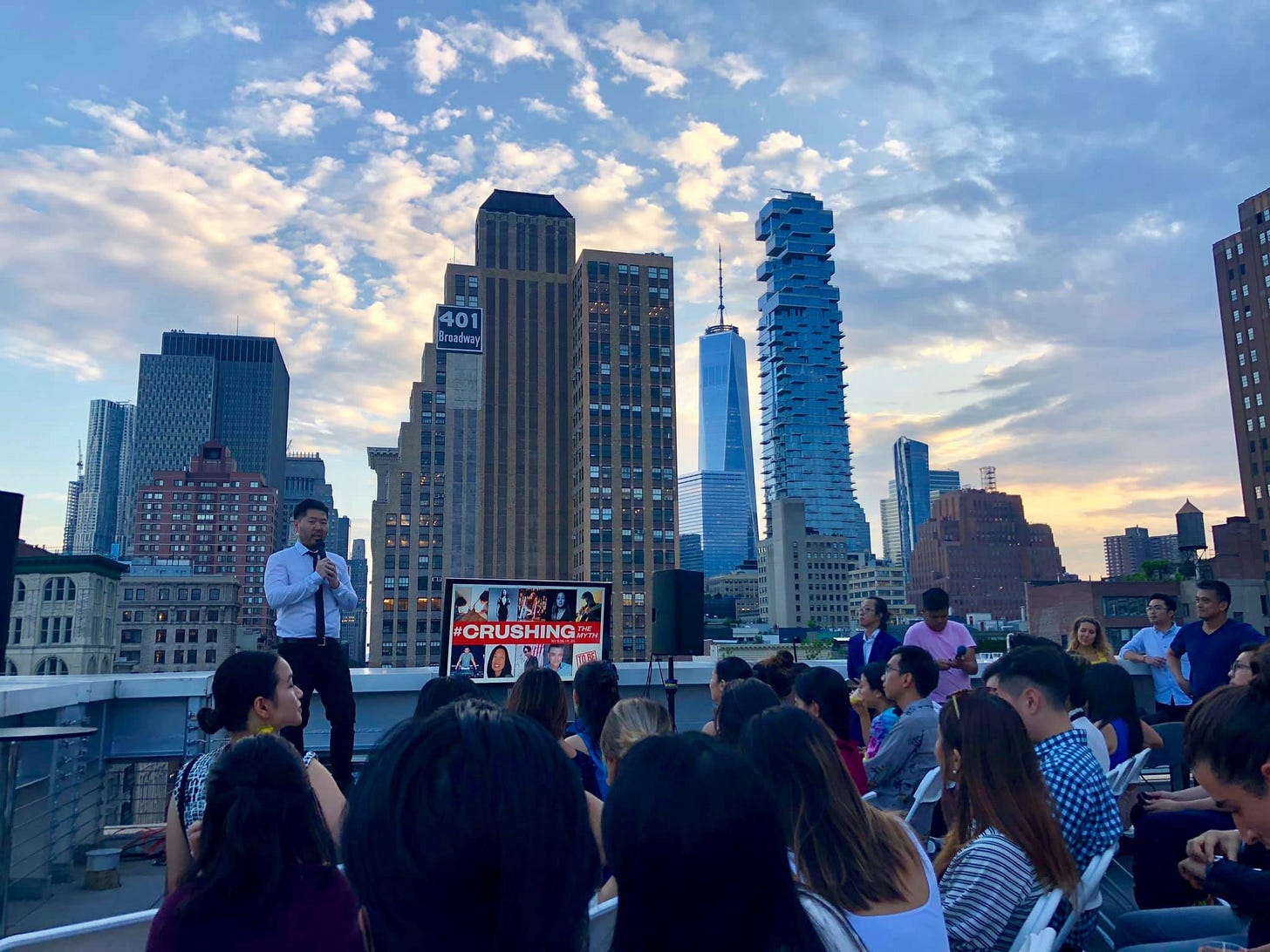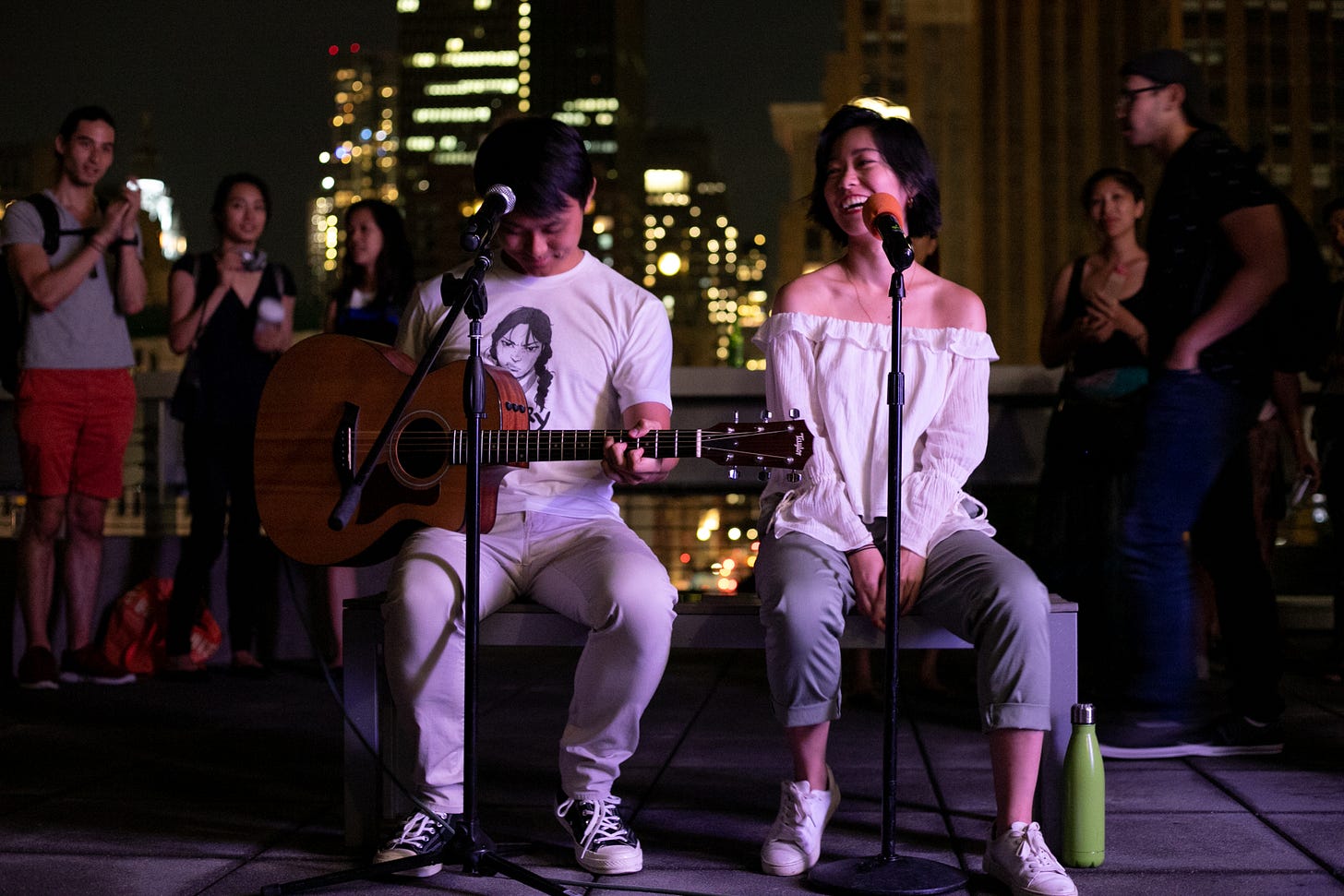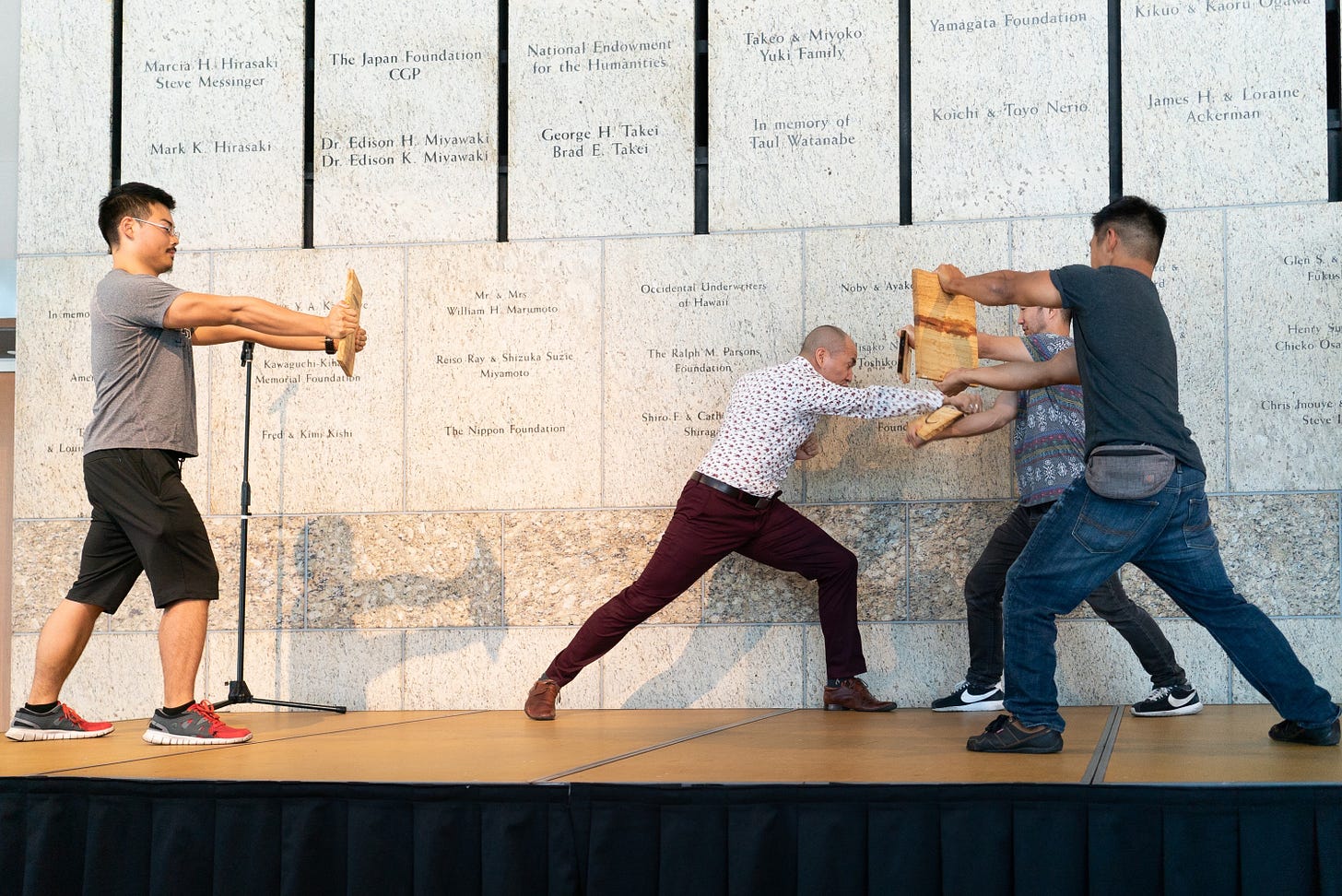 Thank you to our community sponsors: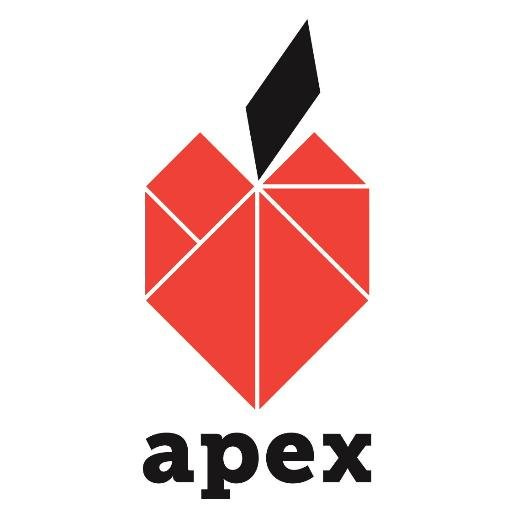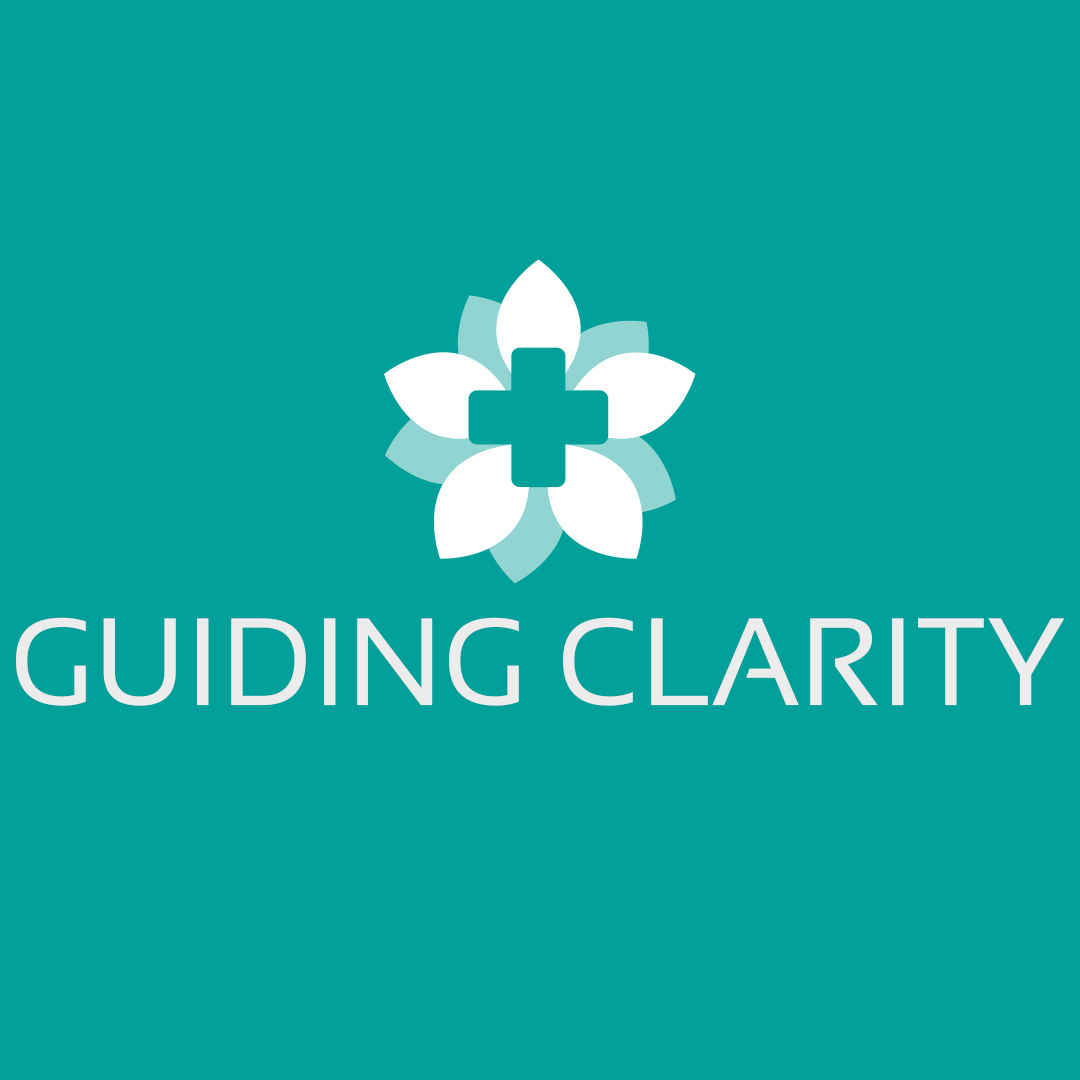 Want to help with Crushing The Myth?

We're holding quarterly "town halls" over Google Hangout to get direct feedback from you and also ask for help. =)

Use this doodle form to indicate when you can attend. We'll try our best to accommodate everyone's schedules.

Thanks!
Upcoming AsAm Events
Looking for something fun to do in the next few weeks? Check out some of these upcoming events from our partner organizations: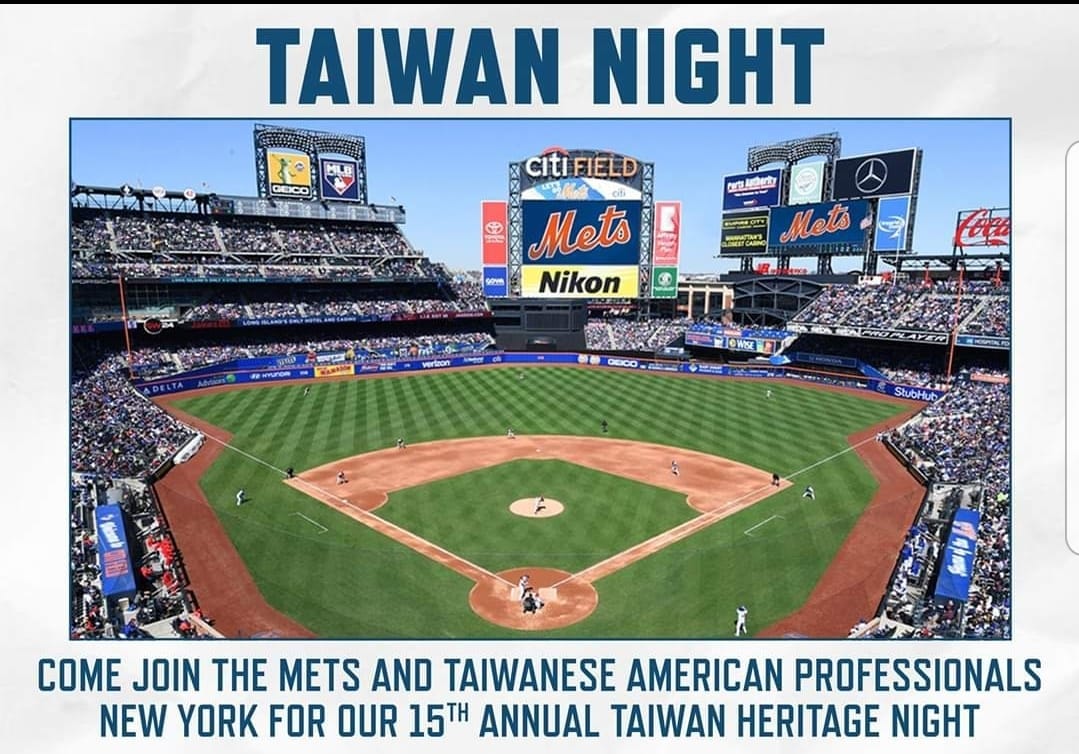 Come join TAP-NY as the NY Mets host the 15th Annual Taiwan Day at the Mets stadium for an exciting game with the Mets playing the Phillies!

Taiwanese comedian, social worker and Youtuber Tsai Aga will be throwing the honorary first pitch.

If you would like to support and donate to Taiwan-based charities, please visit https://give2asia.org/fund/?fwp_location=taiwan, a 501(c)(3) non-profit organization, to look through different projects.

Grab your tickets soon before they fill up! The deadline to purchase tickets will be August 31st. For any additional information, please e-mail Harrison Wang at Harrison.wang@tap-ny.org.

+++


Special Interview With:
"Preeti Varathan is a producer and host for Quartz News, a global weekly news show with Facebook. She's produced stories in Singapore, Lagos, Paris, and Ottawa."

Stand Up Comedy Featuring:
Jason Choi (Boston Comedy Festival)
Gerrie Lim (Chasing Color Project)

Musical Guest: Wind Meets West
"Tony Nguyen, an LA-born Viet-American singer-songwriter. He seeks to write songs that connect with people through melding the sonic vocabulary of many different genres, such as R&B, jazz, and rock into one cohesive indie-pop sound."

Hosted and produced by Ed Pokropski (NBCUniversal)

+++




Apex For Youth

BECOME A VOLUNTEER AND HELP UNDERSERVED ASIAN YOUTH!
Saturdays, Oct. 19th - Dec. 14th
Help 3rd, 4th and 5th grade students prepare for Mathematics and English tests through educational games, tests, and engaging projects.
WHEN
Saturdays from October 19th - December 14th 10 A.M. - 12 P.M.
LOCATION
P.S. 169
Sunset Park, Brooklyn **Just 10 minutes away from
Atlantic Ave/Barclays Center Station

EMAIL: brooklyn@apexforyouth.org

+++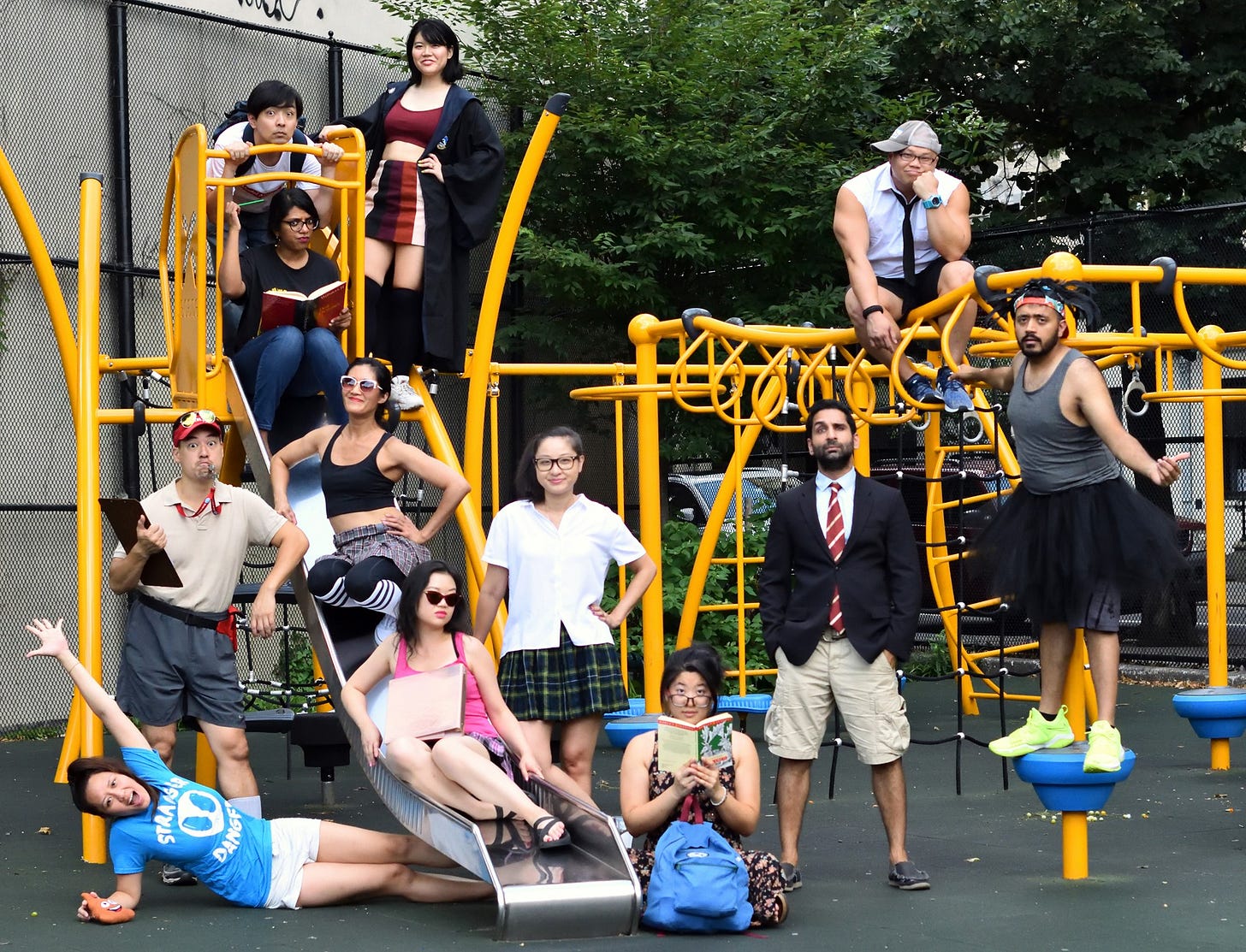 Model Majority Comedy
Model Majority: Back to School Special!
Sept. 6th, 2019
Please join Model Majority for a night of comedy with school-related sketches and stand-up comedy by David Nguyen (Bad Asians Podcast, SF Sketchfest). Together we can laugh through the pain that was high school.

Model Majority is NYC's 1st all Asian American sketch comedy team with SNL (Saturday Night Live)-style shows written, directed and starring a diverse group of Asian Americans. Every show is different with different team members and shows have been featured on Timeout NY's list of "Best Comedy Shows in NYC".
Team members have appeared in TV/Film incl. SNL, Comedy Central, Tracy Morgan's The Last OG, Full Frontal with Samantha Bee, Blue Bloods, Step Up 3, Blacklist, Ray Donovan, and Law & Order: SVU.

+++


Overstep Comedy
Sept. 15th, 2019
Overstep Comedy is an inclusive comedy collective dedicated to representation in comedy and kicking ass. We see laughter as not merely an escape but also an entry point into difficult conversations. We seek to explore marginalization and what it means to re-center our experiences. And we make a lot of food references, because we're hungry and Asian food is awesome.

Upcoming shows:
Overstep Comedy
The PIT Striker Stage
123 E. 24th St., New York, NY 10010

Sunday, September 15, 2019, 8pm, with a special guest!
Sunday, October 20, 2019, 8pm.
AsAm Podcasts & Magazines
Looking for something new to listen to or read? Check out these great podcasts and magazines focused on Asian American topics!


Rock The Boat Podcast

Rock the Boat, a new podcast that shares the stories of Asian Americans in unconventional career paths. You can tune in to Season 1 episodes now on iTunes, Spotify, Anchor, or most places you listen to podcasts. Season 2 is coming up in May and will feature Asian American storytellers, creators, entertainers...if this sounds like you, or you know of anyone in those fields, reach out to them: email hello@gorocktheboat.com or Instagram DM @rocktheboatnyc. Visit their Facebook page here.


Asian, Not Asian Podcast

Welcome to "Asian, Not Asian", a podcast by two Asian guys not from Asia talking about American issues no American seems to care about. Each week, Fumi Abe and Mic Nguyen will discuss race, politics, media, funny stuff, food pics, peace signs, model minority myths, urban myths, and urban outfitters. New episode every Monday!


Now In Color Podcast

Now In Color is a weekly podcast hosted by Sandie Cheng that brings POC stories, erased from history, back to the forefront. Check out their newly released episodes here.


Hapa Mag

Hapa Mag is a publication by Hapas, for everyone.

Here at Hapa Mag, we believe that the word Hapa celebrates our unique identities. Throughout its history, "Hapa," has taken on different meanings for different people. It originated from the Hawaiian pidgin word for "half," and for many of us, it has come to mean that you're part Hawaiian, Pacific Islander, and/or Asian.

To be Hapa is to be a part of a diverse and growing community with many perspectives. We hope to capture these mixed stories and experiences within each issue of Hapa Mag. Read all about it here.